Cottage industry refers to a small-scale, decentralized manufacturing business or firm. Often, they are operated out of a home rather than a purpose-built facility. In the preindustrial age, the cottage industry used to be the dominant form of production. Over the successive industrial revolutions, either they have not been growing or getting extinct. However, many of the upstarts like Apple or HP started the journey as a cottage industry or home-based operation, operating from the garage. As opposed to getting extinct, they grew and caused disruption to large incumbent firms. Similarly, LEGO grew from the passionate work of a carpenter, working from home. Such reality raises the question: do all cottage industries remain small? What do some cottage industries remain small, and others find a scalable path of growth?
Cottage Industry in the Developing World
In the preindustrial age, the cottage industry used to dominate productive activities all over the world. The cottage industry used to be a major supplier of innovative products from textiles to utensils. Even the cottage industry used to supply fine products. For example, Moroccan traveler Ibn Batuta (1304-1377), in his travelogue, mentioned the world-famous product of muslin. Among others, the home-based production units in Bangladesh used to produce fine textile-muslin. During that time, the cotton-based textile industry was organized under the pure handicraft or the domestic system of production.
However, during the first industrial revolution in the UK, the growth and diffusion of the ideas of the steam engine and mechanization of textile production started making large production facilities a better alternative. Subsequently, the import of textile products started marginalizing both muslin and home-based production of a broad category of textile products. Basically, none of the cottage industries scaled up into large businesses. Although a recent survey found more than 600,000 home-based production units (cottage industry) in Bangladesh, most of them have been showing no scalability of growth. Such reality raises the question—why do cottage industries remain small?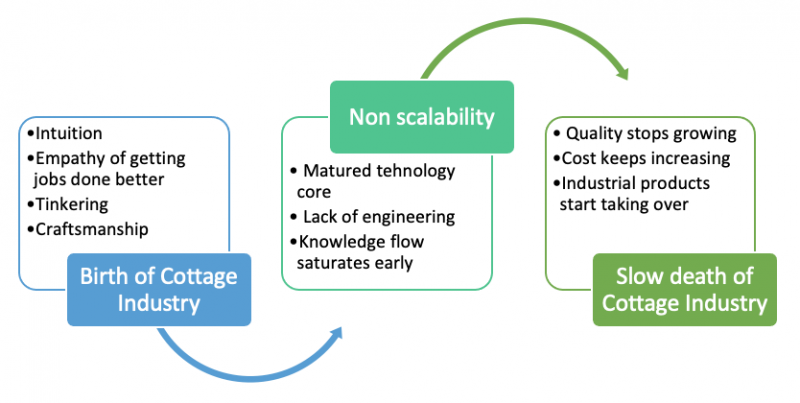 Underlying factors holding cottage industries remain small
Home-based small-scale production units are the origin of the formation of our ability to develop and supply processed products—whether food or clothing. They often start the journey with an intuitive understanding of consumers' needs and ideas of product and production processes to meet them. Of course, they succeed in tuning intuitive knowledge and ideas into productive activities. They start producing and selling outputs to support their livelihood. But they fail to keep them growing—turning them into medium and large firms. In course of time, they also start shrinking due to the increasing pressure of substitutions—delivered by large industrial firms.
In order to scale up their initial successes, they need to acquire the capability of improving the quality and reducing the cost. However, most of the home-based firms fail to keep generating ideas—and integrating these ideas into their products and processes– in creating the needed scale effect. Their intuition-based approach saturates very quickly in generating ideas. The lack of capacity to turn intuition into science and linking with engineering is a major barrier to creating a Flow of Ideas—for continuously increasing the quality and reducing the cost. This is the vital capability that they must need to scale up their home-based production units. Does it mean that all home-based journeys fail to scale up? Fortunately, the answer is no. There are examples to draw lessons on how to figure out a scalable growth path to a home-based beginning.
Lego—a cottage industry did not remain small
In 1932, carpenter Ole Kirk Christiansen started making toys from his home-based workshop. His wooden toy making started out of empathy, passion, intuitive ideas, and craftsmanship. Over time, it has grown as a multinational—generating over 5 billion Euro revenue in 2019. According to some estimates, in five decades, Lego Group has produced 400 billion Lego blocks. It takes annual production of Lego bricks averages approximately 36 billion, or about 1140 elements per second.
To create a market of such huge outputs, Lego faced two major challenges. The first one is about creating a willingness to pay among a very large number of children. Moreover, the challenge is to make the same child be a customer for many of their products. The second challenge is to reduce the cost of production to address the affordability issue. To address these two major challenges, they needed a flow of ideas of their toy design and production techniques. For sure, Mr. Christiansen's intuition and craftsmanship were not sufficient to scale up production and sales. Instead, it needed a flow of ideas for increasing the perceived value and reducing the cost.
Hence, Lego linked the passion with the science of toy Innovation and engineering of design and production. The linking of empathy, Passion for Perfection, and craftsmanship with science and engineering is vital for creating a scalable growth path out of a flow of ideas. In fact, most of the home-based production units are suffering from the lack of this vital capability. Hence, more or less all cottage industries remain small.
Apple, HP, and others—from the garage to multinationals: lesson for cottage industries remaining small
The second set of examples shows up from Startups. Many of the current large technology corporations started the journey from home or garage-based operations. Often their initial products were the outcome of passion, intuition, and craftsmanship. For example, Apple I was a hand-crafted primitive computer. Apple did not grow just by producing and selling Apple I. To create the scale effect, Apple had to focus on ideas for creating the willingness to pay for its products among a very large number of customers. Hence, Apple embarked on creating the flow of ideas by fine-tuning Xerox's graphical user interface (GUI).
Apple was also under pressure to not increase the price in offering GUI-based computationally rich machines. Well, Apple got the help from ideas of Silicon innovation from chip suppliers like Motorola. Hence, a flow of ideas became the underlying force for creating the scale effect for Apple. This scale effect turned the garage-based operation into a corporate success story.
This Apple story of scaling up ideas is familiar in creating startup success stories. Like the cottage industry, most of the startups begin the journey from a home-based operation. The flow of ideas out of science and engineering—for making their products increasingly better and cheaper– is the fuel for turning them into large firms. Unfortunately, in the absence of it, cottage industries remain small.
Passion for perfection links with science and engineering in creating the scale effect
For finding a scalable growth path, every firm needs to open the path of creating a flow of ideas for increasing the willingness to pay for their products and reducing cost. It does not matter whether they are home-based firms or startups. It does not necessarily mean that we should randomly start producing ideas. We need to be very focused: ideas for increasing the willingness to pay among a growing number of customers and reducing the cost. To support it, we need science leading to technology progression and a better understanding of consumer preferences and competition—among others. Hence, there is an underlying cause of the fact that cottage industries remain small. The remedy is to create the flow of ideas by linking passion for perfection, craftsmanship, science, and engineering.