We are all after innovations for improving products, processes, and organizations. This is our core capability of finding a scalable growth path. A recent study finds that 84% of business leaders cite Innovation as critical to their organization's success, but only 6% are satisfied with their innovation results. Why is there such a big gap? What kind of skills do we need to unleash the power of innovation? At the top of the list are creativity, collaboration, communication, and critical thinking. These are soft skills. They are the transformative skills necessary for innovation to take root and grow in any organization. But they are hard to develop. Soft skills cannot develop without a culture of trust and collaboration. The soft skills that support an innovative spirit come naturally for many people. Thomas Alva Edison, Steve Jobs, and others demonstrated it. But others can learn, practice, and sharpen their soft skills.
We have an inherent root of soft skills. For ages, we have been applying them to innovate in improving our living; the challenge is to scale them up. Eight of the top skills for future work in 2025 are soft skills. They are personality traits and behaviors. They belong to working with people, problem-solving, and self-management. In addition to their importance in executing relevant tasks, they affect the productivity of applying hard skills. But our colleges and universities are focusing on hard skills. Hence, we need to hone soft skills for leveraging hard-earned hard skills. But how to achieve them?
Interestingly, these soft skills have roots in innate cognitive abilities like time-sharing, information ordering, and deductive reasoning. Unlike hard skills, they could not be developed using conventional training methods. Ten soft skills vital for innovation are the following.
Deductive and inductive reasoning for visualizing reoccurring patterns:
Invariably, in innovation discourse, empathy, creativity, and design thinking get the priority. The success of innovation is not about just having the ability to generate ideas for helping customers get the job done. It largely depends on how innovators understand and predict unfolding innovation dynamics. Innovations grow neither as a collection of random ideas nor linearly. Despite magical perception, there have been reoccurring patterns. Hence, innovators should focus on inductive reasoning ability. Innovators should analyze pieces of evidence to detect reoccurring patterns for drawing a general conclusion in explaining past and present dynamics. Subsequently, innovators apply those patterns in drawing a general conclusion about the likely future scenario. Combining this deductive and inductive reasoning is at the core of being a changemaker.
For example, upon getting success from iPod, Steve Jobs did not keep enjoying the growing revenue and adding more innovative features to the gadget. Upon integrating the growth of smartphones, the internet, and consumer preferences, he visualized the irrelevance of the iPod. Hence, he embarked on iPhone—a response from deductive and inductive reasoning. Without this ability, no amount of creativity could have worked to save the iPod—let alone showing magical performance.
Empathy, attention to details, and
Passion for Perfection

:

Any great invention, so do innovations around it, appears in a primitive form. It needs a Flow of Ideas for helping customers to extract increasing value or Utility. Hence, having a great idea is the first challenge. How to add a flow of ideas to it so that it can keep growing is another challenge—perhaps, far bigger one. Hence, innovators should have empathy to feel customers in getting their jobs done, attention to detail, and passion for perfection.

For example, Microsoft Word or Mobile Phone handset started in a primitive form. Even compared to today's iPhone, the first generation one was quite primitive. Those primitive emergencies create little willingness to pay. Often, they start the journey in generating loss-making revenue. The flow of ideas for growing perceived value, preferably decreasing cost, is crucial to turning the loss into profit. Hence, a systematic flow of ideas is a must. That flow may even last over decades, even centuries.
Furthermore, there has been a race in evolving innovation. Sometimes, followers take the lead due to superior performance in generating an additional flow of ideas. For example, upon entering into the hard disk evolution race after 20 years of its emergence, Toshiba took over the lead from IBM.
Besides, many of the innovation success stories are responding to imperfections of existing products and processes. For example, Apple did not innovate any new product from the scratch. Simply, it has been addressing the imperfections of existing products, whether iPhone or iPod. For this reason, Steve's soft skills of empathy, attention to detail, and passion for perfection paid a vital role. Similarly, at the root of Japan's success, this set of soft skills has been playing a great role.
Wining trait and systematic thinking soft skills:
The innovation success does not show up as a big bang from a great idea, springing as a creative spark in the mind of a genius. It requires a systematic flow of ideas for incremental advancement, sustaining innovation, and creative destruction. Hence, the journey demands winning traits and systematic thinking. A simple mistake in understanding the dynamics and failing to respond may lead to massive failure. For example, Nokia's slow response to the appeal of the iPhone's multitouch user interface led to catastrophic failure. On the other hand, pursuing a loss-making journey amid uncertainty for reaching success demands a winning trait.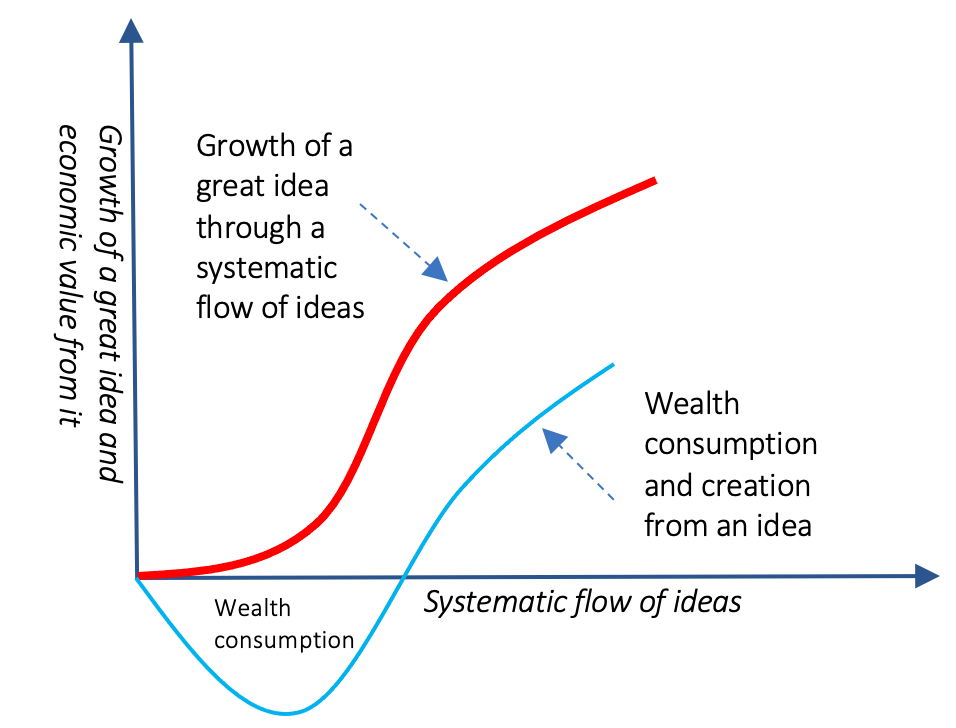 Active learning and complex problem solving:
As mentioned, innovations emerge in primitive form. They began the journey at a loss—demanding a flow of ideas systematically. Hence, innovators must have an active learning ability to keep generating and compiling knowledge, and feeding it to the creative process. In this journey, innovators need to deal with several challenges, including technology portfolio management, idea, and intellectual property management, manufacturing, managing R&D, understanding customer preferences, and dealing with the response from the competition. It's a complex problem indeed.
Soft Skills like loyalty, collaboration, and teamwork are vital for innovation:
Often, we perceive innovation as the creative spark of a magical solo actor. But creating economic success out of it is a long-term, systematic journey. It requires collaboration and teamwork within and outside firms. In certain cases, innovation edge shows up from outside collaborators. For example, Apple has been showing innovation magic by sourcing ideas from more than 200 suppliers. iPhone's contemporary imaging innovation edge is being provided by Sony, Largan, TSMC, and many others. Apple has little to offer without Sony's image sensor and Largan's micro-lens in its next release. On the other hand, computational imaging-based innovations demand TSMC 5nm foundry service for processing the Silicon for Apple's bionic chip. Hence, loyalty and partnership are at the core of innovations' winning recipe.
Critical and creative thinking, fluency in ideas, and originality:
Innovation is not a linear process. The competition of the Market Economy transforms innovative ideas into economic value or waste. Furthermore, innovations grow in an episodic form. There have been numerous competing candidate ideas to be added to a product. How to envision competition, consumer preferences, and technology possibilities demands critical thinking. For leveraging unfolding possibilities and dealing with threats, innovators need to have creative thinking ability for coming up with original ideas. Winning with innovation is like fighting wars. Innovators must have critical thinking to determine how to attain price-setting capability for monopolizing the market. Either you win by destroying your competitors or getting destroyed at the end of the game. Unfortunately, there is no middle ground. It's like winning wars, in collaboration with partners, by a systematic flow of ideas in helping customers in Getting jobs done better.
Communication, common understanding, and shared vision soft skills:
The evolution of innovations keeps demanding contributions from both inside and outside teams. Besides, innovators must prepare to respond to the unfolding dynamics over short, medium, and long terms—even lasting over many decades. Most importantly, an innovator cannot respond to it alone. Hence, innovators need to have the capability to envision the vision and communicate to partners for having a common understanding. In some cases, the synchronized response demands the shared vision of dozens of partners from multiple countries.
Resilience, stress tolerance, flexibility, and adaptation:
Failing, standing up, and fighting again is the nature of the journey for extracting economic value from innovations. For example, amidst high-level technology uncertainty, Sony invested in electronic image sensor R&D for over a decade before producing the first digital camera. Yes, it created a significant fortune for Sony, inflating profit at a record level in the 1990s. But within less than 20 years, Sony faced the creative destruction effect from the uprising of the smartphone camera, pushing Sony in a loss. But Sony did not give up. Upon being kicked out of the standalone digital camera business, Sony stood up, became flexible to adapt to the new reality, and focused on supplying image sensors to smartphone makers.
Start small while seeking scale: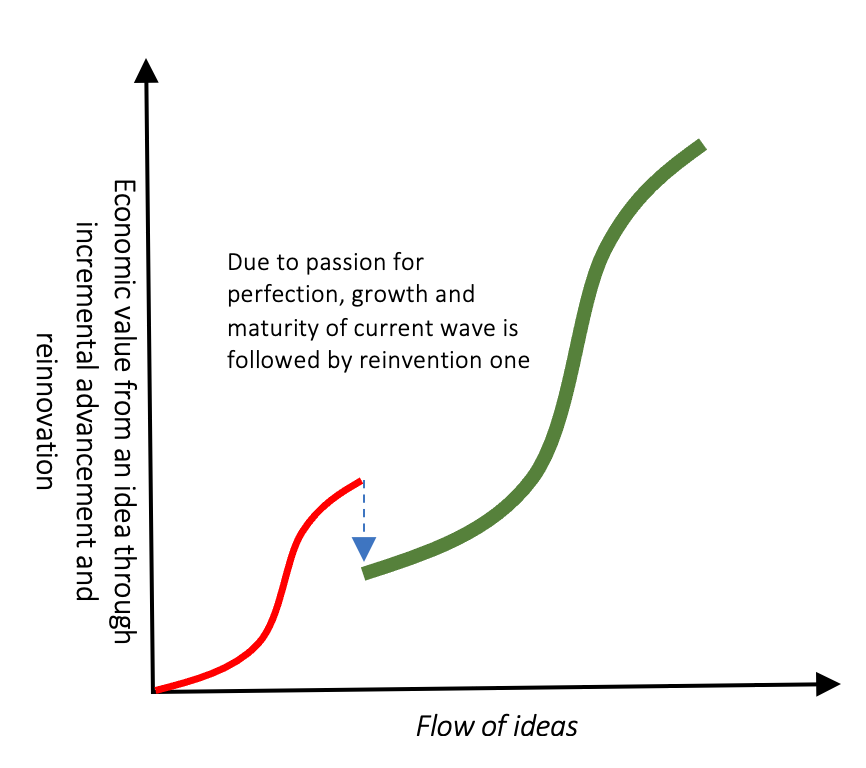 Contrary to common perceptions, innovations do not show up as big bangs. Invariably, the journey begins in humble form. The focus should be on creating a scale effect out of the underlying technology progression. Scale effect should be distilled from the ideas of increasing the perceived value and lowering the cost so that innovators can penetrate deeper into the market and attain price-setting capability.
Although creativity is a must for generating ideas, creating a success out of ideas demands an array of soft skills. It's like winning wars. Innovators must have the winning trait to destroy competition while increasing economic value for consumers and investors. Amidst multifaced uncertainties, innovators must envision the game plan and implement it in collaboration with partners. Often, the mission takes decades to reach the winning line. Besides, the winning is not permeant—susceptible to suffering from destruction from the next wave. Hence, these soft skills are vital for ferreting out economic value from our creativity and hard or technical skills.     
...welcome to join us. We are on a mission to develop an enlightened community by sharing the insights of 

Wealth

 creation out of technology possibilities as reoccuring patters. If you like the article, you may encourage us by sharing it through social media to enlighten others.