Why does the LED light bulb invention make Nichia a success and GE failure? For almost 100 years, Edison's company General Electric (GE) was the global leader in the ever-growing lighting business (USD118 billion in 2019). But GE lost its edge to a tiny Nichia. The reinvention of the light bulb by changing the filament technology core with the light-emitting diode has emerged as a creative wave of destruction. Ironically, like the incandescent and the CFL bulb, GE led to inventing LED. Among the forerunners, GE's Nick Holonyak demonstrated LED on October 9, 1962. GE had the human capital, early lead in the invention of LED, risk capital, brand value, manufacturing capability, global supply chain, and all others needed to derive economic value from the success of the LED light bulb. But GE lost it because of the weakness in understanding the dynamics and making intelligent decisions.
We strongly believe in human capital, ideas, and physical capital for driving economic growth. But are they enough? Perhaps, there is no natural correlation between them. The far more critical factor is understanding the dynamics of the economic value creation out of technology ideas and the decision we make. In retrospect, GE had all ingredients to ferrate economic value from the LED invention. Ironically, GE lost the opportunity and, most importantly, lost its thriving lighting business due to the uprising of the reinvention wave of the LED light bulb. Despite primitive beginning, LED bulb became a far better alternative to GE's incandescent and CFL bulbs, leading to suffering from disruptive innovation effect. On the other hand, Japan's tiny Nichia, having no background in the lighting business, became a global leader. The underlying cause has been their difference in understanding dynamics and making decisions.
Light bulb invention and uprising of General Electric (GE):
The light bulb invention started with the demonstration by Humphrey Davy in 1809. By forming an electric arc, he demonstrated the light production from electricity. Before Davy, in 1761, Ebenezer Kinnersley showed the emission of light by heating a wire to incandescence. However, the demonstration of Edison's carbon filament lamp, in October 1879, began a new era. It made residential and office use of electric light bulbs a real possibility. Subsequently, Edison set up an R&D center in 1899. Hence, systematic performance improvement of this invention for making it increasingly a better alternative to other substitutes was materialized.
The necessity of having a battery in every household or establishment became a barrier to the diffusion of the light bulb. Hence, Edison embarked on producing and distributing electricity from a central location. The increasing preference for light bulbs led to the growing business of light bulbs. It also kept increasing the demand for electricity production. Such a trend led to the rapid expansion of Edison's electricity and light bulb business, forming General Electric (GE) Company. Over almost 100 years, GE kept growing in expanding lighting, power, and other business. Subsequently, it reached reach the status of the most expensive company in the world in 2000. During this period, GE retained its edge in the ever-growing global lighting industry.
GE's light bulb invention and decision-making
dilemma

to pursue:

After Edison's carbon bulb invention, GE's R&D center kept improving its performance. In 1906, GE engineer William Coolidge developed a long-lasting, super-bright tungsten filament lamp. Subsequently, GE launched a tungsten filament lamp in 1911. Continued effort in improving light bulbs made GE's light bulbs bright enough to light the first-ever Major League Baseball night game, in1935. GE has also been credited for the invention of the fluorescent bulb in 1938 and the halogen lamp in 1959. The continuation of GE's legacy in unfolding one after another invention in light bulbs led to lighting emitting diode (LED) in 1962.

Like many other great inventions, LED also emerged in primitive form. It got birth as a faint red light-emitting device. Subsequently, scientists improved the intensity of red LED and invented a green one. But the blue one became the bottleneck in getting perfect white light from the LED.

Despite having an early lead in the invention, GE management did not seriously decide to pursue it. Notably, it did not show an intense desire to overcome the limitation of the blue LED. Hence, the barrier caused by blue LED and ongoing profitable business from incandescent and fluorescent lamps kept GE management in a decision dilemma.
Nichia's decision to pursue fine-tuning LED light bulb invention created a disruptive innovation effect:
Unlike GE, in the 1970s, a little Japanese company Nichia became restless. Because the management predicted a likely bleak future of its chemical business. Nichia Corporation started the journey in 1956 to produce calcium phosphate for fluorescent lamp phosphors. Upon anticipating the prospect of the LED light bulb, Nichia forecasted a loss in demand for its phosphor chemicals used in fluorescent lamps. But, it did not keep waiting to witness the bleak future of its chemical business. Nichia took a decision to embark on exploiting the possibilities of LED lighting.
But the blue component became the barrier to making LED light bulbs an acceptable alternative to both incandescent and fluorescent lamps. To overcome it, Nichia took the decision to focus on the scientific investigation to figure out the underlying cause and invent an effective means to address it. Subsequently, it led to the decision to support Shuji Nakamura to research gallium nitride light-emitting diodes. However, this decision led to the discovery of cause (presence of hydrogen) and the development of effecting means for having high-brightness sharp blue LED in 1993. This invention removed the last barrier in fueling the creative wave of destruction of the LED light bulb. Subsequently, the reinvention of the light bulb by changing the incandescent and fluorescent technology cores lead to reaching the inflection point in the 2010s and causing disruptive effects to GE's lighting business.
Understanding of dynamics and making decisions made the difference—Nichia rose, and GE fell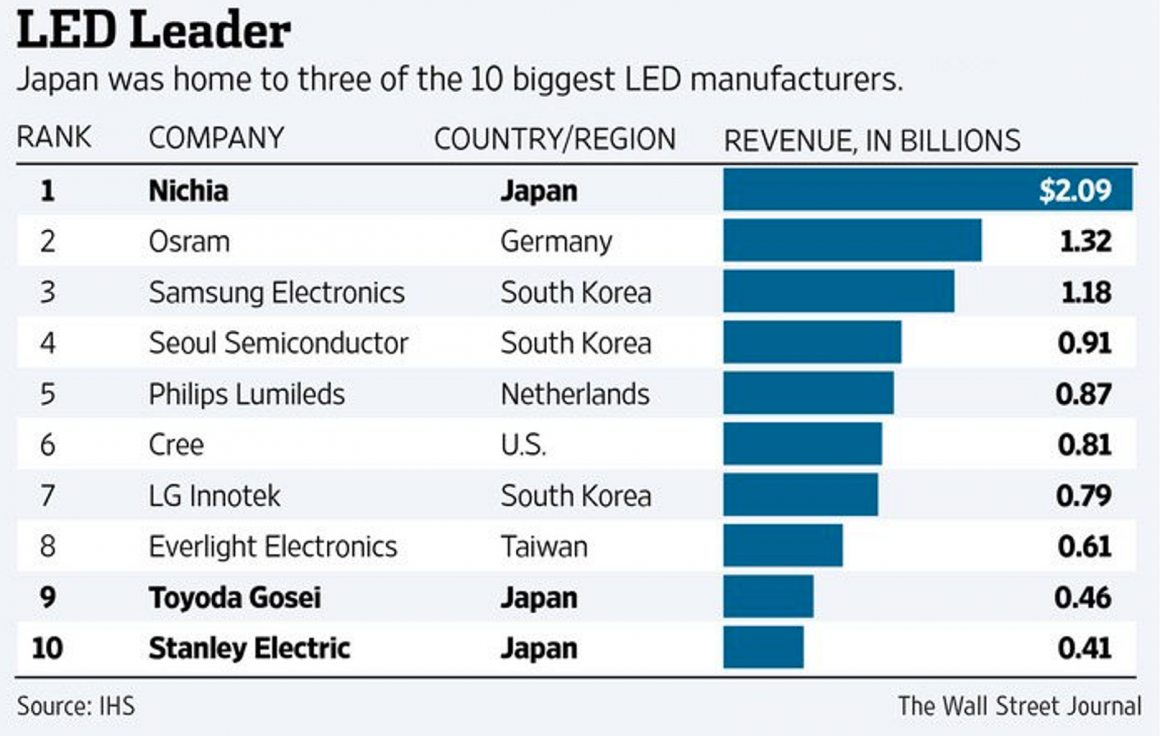 Other than a solid understanding of the unfolding reinvention dynamics and firm decision to leverage it, GE had all other ingredients. GE had all the success factors that management gurus recommended. Some of them are human capital, R&D, idea, brand value, complementary capacities, risk capital, and distribution and sales channels.
On the other hand, Nichia had virtually nothing. But it had an understanding of dynamics, a fear factor, and a solid decision to pursue LED. This decision empowered Nichia to source needed human capital to embark on the mission. It was the mission of discovering knowledge and inventing ideas to overcome the barrier of the blue LED. Subsequently, Nichia developed all other capacities, from human capital to ideas. Hence, understanding the dynamics and decision-making capability highly matter. It should be at the core of leveraging human capital, knowledge, ideas, labor, and physical capital.
Lesson for economic growth theories: understanding of dynamics and decision matters to derive economic value from human capital and ideas
Economic growth theories have been prescribing investment in advancing human capital and supplying ideas for driving prosperity. Notably, they have been recommending increasing investment in STEM education and research. Furthermore, country-level innovation and competitiveness indices, and university ranking have been counting STEM graduates, publications, and patents. There has been no focus on the importance of the capability of understanding economic value creation dynamics out of human capital and idea in the competitive market. Such capacity is vital for undertaking decisions. In the absence of it, as the fall of GE and the rise of Nichia suggest, investment in producing graduates and conducting research for publications and patents run the risk of being wasteful. It must be an afterthought, peripheral or exogenous issue. Understanding innovation dynamics and making decisions (D) should be the core capacity. It should guide the process of creating economic value from human capital, ideas, and other factors.          
...welcome to join us. We are on a mission to develop an enlightened community by sharing the insights of 

wealth

 creation out of technology possibilities as reoccuring patters. If you like the article, you may encourage us by sharing it through social media to enlighten others.