Of course, medicine and law are the top two high income jobs. But how do we create more of them? Indeed, we do not encourage more diseases and disputes to create more jobs in medicine and law. Do they create Wealth? On the other hand, can we leverage technology possibilities to develop high income jobs and wealth simultaneously?
Unlike law and medicine, technology possibilities simultaneously open the door to creating wealth and high income jobs. By harnessing technology possibilities, we improve the quality and reduce the cost of products. It happens due to the role of knowledge and ideas in substituting material, labor and emerging, and improving the willingness to pay. As there is no end to gathering knowledge and generating ideas, high income job creation out of technology possibilities is endless. But how can we create high income jobs? Is there a scalable scope?
High income jobs and wealth creation through technology possibilities
Let's assume that upon doing R&D, a STEM professional succeeds in adding an idea to a product by adding a new feature or improving an existing one. As a result, willingness to pay increases, and producers succeed in selling to more customers at the same or higher price. Consequentially, producers open the door to generating more revenue and profit by increasing the satisfaction level of a growing number of customers through ideas. Such a success could be measured as consumer and producer surpluses as an indicator of creating new wealth out of ideas. If marginal profit exceeds the R&D cost and marginal cost of idea addition, the producer can share the difference with the R&D professional, leading to income growth.
Interestingly, ideas can substitute labor and materials, increasing quality and reducing cost simultaneously. For example, due to idea flow, innovators are succeeding in reducing the size of lithium-ion batteries to store the same amount of energy. They are also succeeding in reducing charging time and lowering the performance decaying rate. Similarly, ideas of replacing hardware with software are opening the door to improving quality and reducing cost concurrently. For example, smartphone markers are no longer required to make a keyboard. Besides, customers like the keyboard less interface better than before.
Due to ideas' role of improving the quality and reducing the cost, innovators can improve both consumer and producer surpluses. As there has been no apparent limit to growing profit out of ideas, producers are willing to increase both the salary and number of R&D jobs. Hence, creating high income jobs by leveraging technology possibilities appears highly scalable.
Examples of growing high income jobs for leveraging technology possibilities
It begins with Apple. At the garage of Steve's father, the birthplace of Apple Inc, there was no high-income job for anyone. Hence, the failure of Apple 1 to produce profitable revenue was no surprise. Very soon, Apple came to know the value of systematic idea adoption, refinement, and production, leading to the success of Apple Macintosh.
Let's first forward to look into Apple's success with the iPod and iPhone and the role of high-income jobs in creating the sensation of increasing consumer satisfaction, revenue, and profit. In 2001, Apple's R&D investment was less than $500 million. But that number has been exponentially growing (as shown in Fig. 1), reaching $26.25 billion in 2022. Accordingly, high income R&D jobs got created. During the same time, Apple witnessed exponential growth in revenue and profit. Hence, Apple's success has been due to the role of a growing number of high income jobs in doing R&D to generate and manage wealth-creating ideas.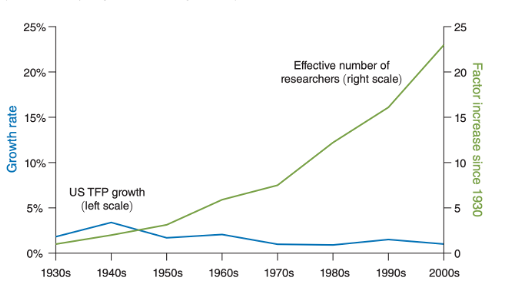 Like Apple, all major companies like Sony, ASML, and TSMC have been creating high-income jobs for idea production to drive their wealth creation agenda. Hence, it's no wonder that China has exponentially grown its R&D budget. Since the first industrial revolution, knowledge and idea production has been at the root of increasing wealth creation. For this reason, high income R&D jobs for STEM graduates have been growing. Notably, during the last 70 years, the USA has experienced exponential R&D jobs growth for driving economy, as shown in Fig. 2.
Sustained Economic Growth–demand exponential R&D investment
Notably, natural resource-poor countries face significant hurdles to sustain economic growth. As we know, economic advancement from labor is not scalable. Hence, upon experiencing linear growth for a while, labor-based economic growth gets flattened. Unfortunately, the scope of skill development programs for increasing revenue from per unit labor has been shrinking due to technology advancement. However, creating economic value out of ideas can show exponential growth behavior. For example, Apple's revenue and profit exponentially grew along with the exponential growth of R&D investment. Hence, there has been a growing urgency to create economic value from ideas for sustaining growth in natural resource-poor countries. For example, Taiwan's success in creating $330,000 value from each knowledge and idea of each microchip designer has been a critical reason for reaching high income status.
Furthermore, meeting sustainable development goals demands finding solutions through idea flow. Hence, there is a growing urgency to increase investment in R&D, creating growing high-income jobs to drive development urgency.
Unlike medicine and law, high income jobs for leveraging technology possibilities result in creating new wealth. As there is an endless possibility of creating wealth from idea production and commercialization, high income R&D jobs for STEM graduates will likely grow exponentially. Furthermore, additional high-income management jobs will be created for understanding wealth creation dynamics out of ideas, formulating strategy, commercializing ideas, financing the journey, and managing R&D programs.  
Please Note:
This article is part of a book, Engineering Economics and Management–Modern Day Perspective.