With the given mad race, the meaning of startup deserves clarification. They are small firms. But how do they differ from other small outfits, such as neighborhood coffee shops? Startups are embryonic firms with the mission of taking ideas to market at a profit. But how does it make them unique? Why is their mortality rate so high? Furthermore, instead of taking a loan, why are the after seed or risk capital? Besides, how come some of the startups are astronomically valued? Even with loss-making revenue, a few of them are valued at more than a billion-dollar, giving the title of a unicorn. Unlike many other new firms, they are either rolling out inventions or pursuing reinvention. They are in the mission of offering better substitutions of existing products or processes, unfolding Creative waves of destruction. It's a journey of the creation of fortune out of destruction.
Apple, Microsoft, HP, Intel, Sony, and many other giant companies were once startups. They were tiny firms, often operating from a garage. But unlike neighborhood coffee shops, convenience stores, or boutique outfits, they have grown behemoths. Besides, once-giants have disappeared or suffered from the burn due to their uprising. For example, due to the uprising of Intel and Microsoft, DEC and many other minicomputer makers disappeared. Besides, IBM suffered from a severe burn, filing Chapter 11.
Invariably, startups are after rolling out inventions or reinventions out of emerging technology cores. Like them, their products also begin the journey in an embryonic form. For example, Sony's Transistor radio or television emerged in primitive form. But due to the growth of the underlying technology core, primitive beginning grows as creative waves of destruction, forming new giants by destroying incumbents. To get to know their dynamics, let's look into the four generations of startups.
Startups out of tinkering and
Craftsmanship

:

Human beings have a natural tendency to generate ideas for creating improved means in performing jobs better. Hence, they are after gathering knowledge, inventing technologies, and innovating better solutions. Consequentially, innovations around emerging technology core take over the role of mature ones, forming a creative wave of destruction. Startups are after forming and rolling out such ideas.
Since the ancient age, human beings have been after creative waves of destruction and forming business out of them. Till 1900, they used to rely on tinkering and craftsmanship in creating and shaping ideas. Hence, many of the great ideas had a limited-scale effect. As a result, startups in those days could not grow as large corporations, causing massive destruction to existing firms in producing mature products. Due to it, most of the firms engaged in inventing technologies and innovating products remained small until 1900. For example, Edison was facing difficulty in scaling up his inventions in the early days, including the light bulb. Similarly, automobile firms were facing problems of scaling up in the early days.
But the scalability of startups started rapidly growing due to the linkage or replacement of tinkering and craftsmanship with scientific investigation and engineering. The new era of scaling up of ideas began with the establishment of Edison's R&D center in 1899. The success of systematic investigation in making the light bulb increasingly better and cheaper led to leveraging science and engineering to scale up startups formed in the 18th century.
WWII research gave birth to the 2nd generation startups:
Upon witnessing the power of scientific knowledge in fueling technologies like RADAR, fighter jets, ammunition, and wireless communication, the US government became serious about exploiting it further. In peacetime, making technology a powerful tool to address living standards, in 1945, President Roosevelt assigned Dr. Vannevar Bush to chalk out a strategic thinking framework. Subsequently, Dr. Bush came up with a landmark report ushering the endless frontier of growth out of science.
The basic philosophy was straightforward. It was about making products better and cheaper by leveraging scientific knowledge. Hence, the suggestion was to invest in advancing science for advancing technologies for innovations. Besides, the journey of civilian innovations was linked with the military agenda. The underlying doctrine was that the technologies developed for the military mission would be refined and leveraged to roll out new products and improve existing ones. Hence, the US government started generously funding basic research with an eye on innovations for serving military and civilian agendas together. The sponsored research programs in universities and research institutions led to the creation of knowledge, ideas, and human capital. Furthermore, there was preferential public procurement and other incentives for creating a market for them.
This exercise led to the profit-making opportunity from the commercialization of newly invented technologies and innovative ideas. Hence, researchers, faculty members, and graduates, having engaged in those R&D projects, jumped into the journey of taking ideas to market. They formed 2nd generation of startups. Some of the notable startups in this generation are HP, DEC, Varian associates, and many more. As spin-offs of research done at MIT, Lincoln laboratories, and Draper labs, some startups became the anchor firms forming the High-tech cluster around Boston Ring Road—Route 128.
3rd generation startups out of silicon, software, and PC:
The invention of the Transistor in 1947 by Bell Labs and the departure of one of the inventors in 1956 to pursue commercial prospects seeded the 3rd generation startups. Although scientists at the Bell labs invented a transistor to replace the electrotechnical relay, it became highly suitable to work as an amplifier, oscillator, filter, and binary switch. Besides, it showed high amenability to be increasingly better and cheaper due to the invention of photolithography process technology. Hence, Transistor did not take much time to be suitable for reinventing electronics and computers by replacing vacuum tubes.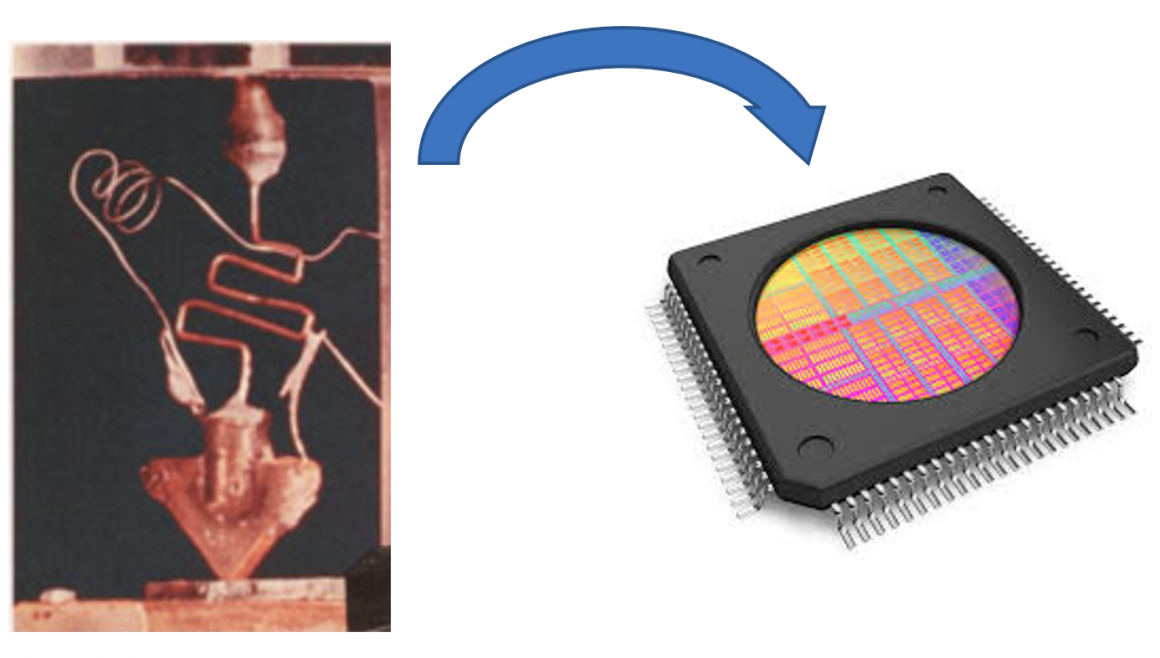 Several startups embarked on the mission for taking advantage of pursuing a creative wave of destruction out of the transistor. In Japan, it was Sony. And in the USA, the chain reaction got started by the formation of Shockley lab in Mountain View, California, and the subsequent formation of Fairchild Semiconductor by 'treacherous eight'. To fuel it further, venture capital firms emerged in Silicon Valley. Numerous startups such as Intel got engaged in creating economic value from the processing of transistors as Silicon chips.
The growing density and low cost of silicon chips led to the invention of PC and graphical user interface, forming a new technology core. Subsequently, startups like Apple, Microsoft, and others got into the race to create creative waves, destroying many firms, including minicomputer makers. Growing computing, memory, storage, and communication power led to the formation of a wave for replacing hardware like ledger books and typewriters with software. The underlying focus of creating success was pursuing technology advancement for fueling the creative waves.
Creative waves out of digitization and AI: a mad race for buying customers for inflating valuation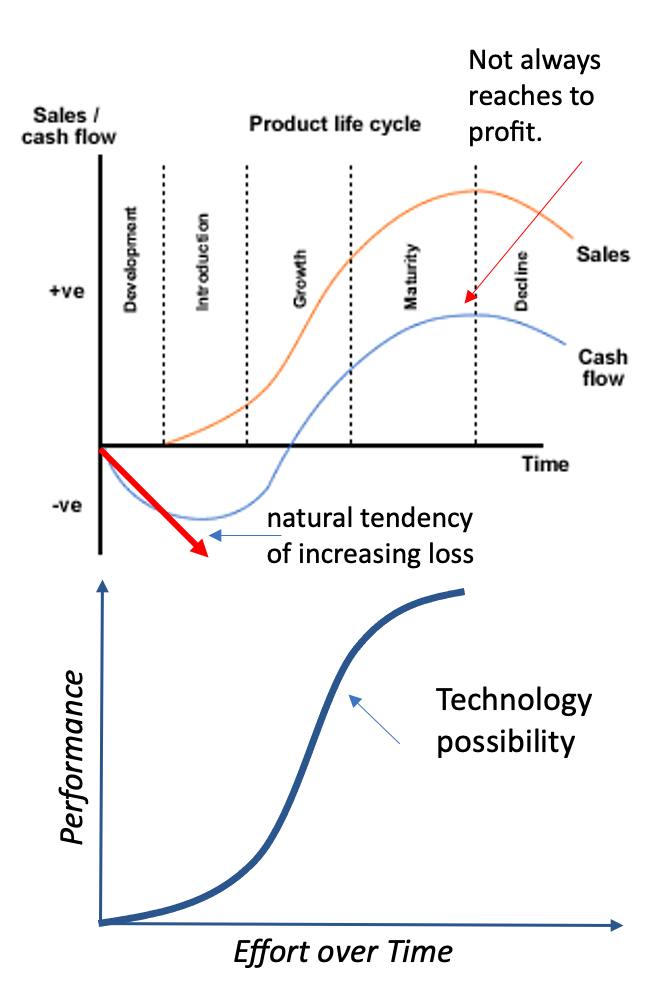 The dawn of the 21st century has witnessed the emergence of a few technologies like mobile internet, smartphones, and cloud platform. Their fusion has formed a very powerful technology core for creating creative waves of digitization. On the other hand, the availability of robust sensors, mobile internet, affordable computing power, ease of data capture and processing, and simplicity of training neural network type learning machines have led to the formation of a technology core for showing human-like intelligence, known as AI. These two technology cores promise to form creative waves out of the reinvention of many existing products and processes.
To leverage this new opportunity, many startups have rolled out. Numerous venture capital funds with tons of money have shown up to profit from unfolding creative waves. Unfortunately, unlike in the past, these new generation startups are not in R&D for advancing their premature products. Instead, they show quick demonstrations, make big stories, allure investors, and buy customers with subsidies. It happens to be that out of greed and ignorance, investors are pumping tons of money inflating the valuation of loss-making startups. Due to this mad race of buying customers for monopolizing the market through subsidies, the valuation of many loss-making startups has reached the billion-dollar mark, increasing the unicorn density.
Opportunities and challenges in profiting from creative waves: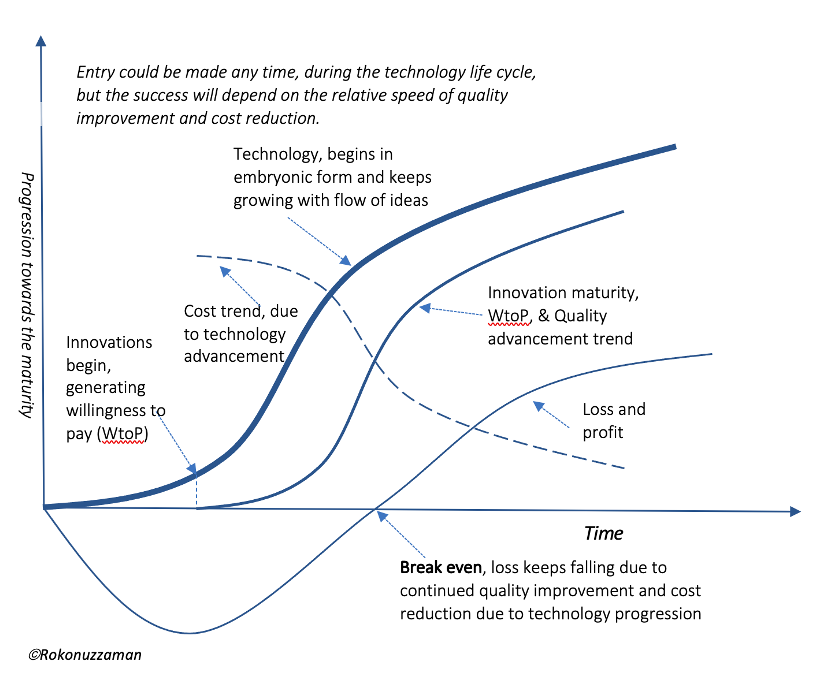 Startups are after exploiting emerging technology core, either through reinvention or invention. For sure, it offers an immense opportunity. But perpetually, all those reinvention waves show up as an inferior alternative, producing loss-making revenue. Due to loss and high risk, lending institutions shy away. Hence, they need collateral-free risk capital. Therefore, upon burning the seed funding raised from their own pockets, friends, and families, they approach angel investors, high net worth individuals, for risk capital. Venture capital fund managers show up with additional funds to take it forward further.
To turn the loss-making journey into profit, startups must focus on advancing the products to improve the quality and lower the cost. Despite the mad valuation race, buying customers out of investors' money runs the risk of turning unicorns into junk. Due to it, even this new generation of startups is indulging in fraudulent practices and ending up in jail. Hence, Elizabeth Anne Holmes is not an isolated character in the mad race of creating a success out of inflated valuation.
...welcome to join us. We are on a mission to develop an enlightened community by sharing the insights of 

Wealth

 creation out of technology possibilities as reoccuring patters. If you like the article, you may encourage us by sharing it through social media to enlighten others.