Competence in Science, Technology, Engineering, and Mathematics (STEM) has been the key to creating Wealth and high-income jobs. As the history of STEM reveals, UK-led Europe became highly prosperous by leveraging it. Subsequently, the USA, Japan, South Korea, and Taiwan succeeded in reaching high-income status. STEM investment has accelerated in less developed countries to replicate such a success. For example, STEM graduate production in China and India jumped to 4.7m and 2.6m, respectively in 2016. These numbers are far more than the USA's 568,000 and Japan's 195,000 STEM graduate count in that year.
Due to the importance of STEM in driving prosperity, science and engineering publications have exponentially grown in less developed countries. For example, in 2018, through publishing 528,263 articles, China overtook the USA's 422,808 count. Upon publishing 135,788 articles, India occupied the third place, followed by Germany with 104,396 and Japan with 98,793 science and engineering publications. Does it mean that India is on its path to becoming a high-income country by leveraging STEM competence? How does science offer an endless frontier? Does the history of STEM offer evidence?
However, as the history of STEM unveils, there is no natural correlation between STEM competence and economic prosperity. Similarly, creativity in generating ideas alone does not succeed in producing profit-making revenue. Hence, grassroots innovations have failed to offer a scalable path of uplifting the economic status of millions of innovators in less developed countries. For example, although India identified 175,000 grassroots innovations by 2016, none has scaled up to create high-income jobs and drive prosperity. Hence, it's essential to draw lessons from the History of STEM.
History of STEM Tells Muslim Glory in Science was Limited to Curiosity
Over five hindered years in the Middle Ages, from the 7th to 12th century, Muslim scientists made tremendous progress in scientific discoveries. Their work built the foundation of research-based universities and major scientific disciplines like Chemistry, Mathematics, Astronomy, and Optical Physics. They also seeded mechanization and automation. However, they could not succeed in driving economic prosperity from this scientific advancement.
Intuition-based Based Knowledge Led to Tinkering and

Craftsmanship

in the Industrial Age
In the pre-industrial age, our ancestors were as creative as us. They were curious to gather knowledge and improve how jobs were being done. However, they used to gain knowledge through intuition. They did not have empirical means for systematically investigating to advance knowledge. Furthermore, they did not have rich documentation and sharing mechanisms. Besides, they did not have a solid mathematical base to represent knowledge as variables and relations in explaining physical phenomena like the formation of waves in water or the cause of the formation of a rainbow. Hence, they could not simulate to generate and validate ideas.
Consequentially, they used to rely on tinkering for inventing and innovating. In the absence of engineering, their means of making copies of their innovative product was craftsmanship. Hence, they could not scale up their innovations to drive prosperity. For the same reason, numerous grassroots innovations in less developed countries have been failing to scale up and offer sustained growth paths to the innovators. As a result, despite creativity and a track record of innovating, like our ancestors of the pre-industrial age, modern-day grassroots innovators fail to rise to high-income status. Hence, despite numerous grassroots innovations, India and many other less-developed countries are yet to rise. On the other hand, profiting from a Flow of Ideas in advancing automobile or semiconductor ideas, several economies have risen to high-income status.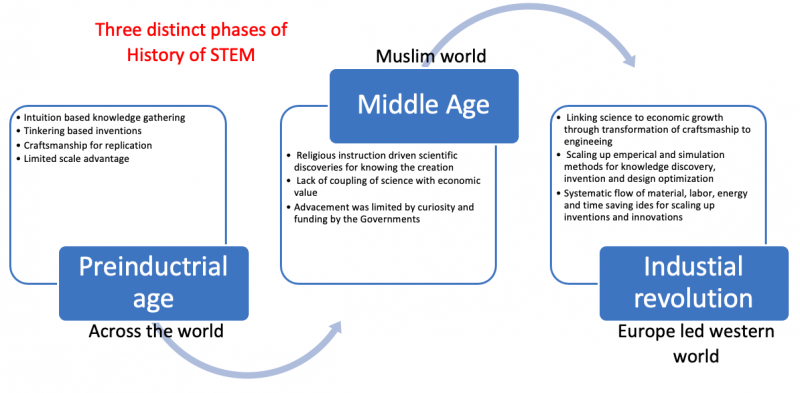 Newtonian Mechanics and Profit-Making Race Unfolded First Industrial Revolution
In the 13th century, Spanish scientists started translating the work of Muslim Scientists from Arabic, opening the door to dissemination in Europe. In addition to knowledge transfer from the Muslims, European Scientists like Newton started advancing knowledge in physics, mathematics, and thermodynamics. Consequentially, Newtonian Mechanics gave birth to upgrading craftsmanship to Mechanical Engineering. Such development led to design optimization and mechanization-based flow of ideas to scale up inventions and innovations. Besides, UK-led Europe started adopting Market Economy principles, opening profit-making opportunities from ideas of refinement and innovations. As a result, race began to scale the already invented steam engine, offering increasingly better-quality energy at decreasing cost and turning the craftsmanship-centric cottage industry into mechanization-based factories.
Consequently, UK-led Europe started increasing wealth from a flow of ideas in making industrial products better and cheaper. Hence, Europe became an economic powerhouse through the creation of idea economy—resulting in the unfolding of the first Industrial Revolution. It was the first demonstration of large-scale economic success through systematic production and trading of ideas.
Electrical Science and Engineering Unfolded 2nd Industrial Revolution
By 1880, steam engine refinement and mechanization had already reached saturation, slowing the European rise. In the meantime, electrical science developed over 50 years from 1810 to 1850, which led to the development of Electrical Engineering from 1850 to 1870. By this time, engineers in Germany, Belgium, and France also succeeded with the internal combustion engine. Hence, by 1880, the race started to refine electrical inventions and innovations like motors, generators, light bulbs, and internal combustion engines (ICE). Consequentially, reinvention in energy production, transportation, turning the wheel of factories, communication, and many other products of the first industrial revolution started unfolding.
Consequentially, the 2nd industrial revolution unfolded—opening the opportunity for new idea economies. America, Germany, and France drove this wave of reinvention, while the UK remained busy profiting from Steam engine technology. Due to the rise of this reinvention wave unleashing creative destruction force on the UK's innovations, firms, and industry, the Innovation epicenter migrated to the USA and other European countries. As a result, new idea economies grew, substituting previous ones. Hence, during the 2nd industrial revolution, the USA, Germany, and France rose, and the UK suffered a relative decline.
During the rise of ICE-based innovations like automobiles during the 2nd and 3rd Industrial Revolutions, petroleum and mineral deposit-rich countries experienced high economic growth. The rapid evolution and diffusion of automobiles led to an increasing demand for petroleum products. Hence, several Middle Eastern countries reached high-income status. Besides, the economies of Canada and Australia gained substantially due to huge energy and mineral deposits and their commercialization.
Quantum Mechanics led Semiconductor—power the 3rd Industrial revolution
From 1890 to 1940, Scientists succeeded in developing knowledge about atoms and how to manipulate electrons, protons, nuclei of atoms, and photons, inventing quantum mechanics. By leveraging it, in 1947, Bell Laboratories succeeded in inventing Transistor, a solid-state switch and amplifier. Besides, by leveraging quantum mechanics, scientists and engineers succeeded in making semiconductor devices increasingly smaller, better, energy efficient, and less costly to produce. Such development led to the using of semiconductor as the technology core to reinvent many products of the 2nd industrial revolution and scaling them further. Notably, the growing performance of microchips like microprocessors and memory units opened a software-based new wave of reinventions and innovations. Hence, it offered new window of creating an idea economy.
Although the USA initiated this new wave of idea economy out of semiconductor and software technology core, Japan soon joined the reinvention race. Hence, Japan succeeded in migrating the epicenter of several innovations from the USA and Europe, resulting in idea economy formation. Consequentially, along with the further rise of the USA, Japan became the world's 2nd most significant economy during the third industrial revolution. Besides, by creating the idea economy by driving this 3rd mega wave of reinvention, natural resource-poor South Korea and Taiwan rose to high-income status. As many other less-developed countries did not take the opportunity of driving reinvention waves to create an idea economy, they could not graduate to a high-income level.
Not All Countries Equally Benefit
By the way, not all countries could not equally benefit from the semiconductor technology core. For example, despite developing a large semiconductor industry, even countries like Malaysia could not rise as they focused on providing labor instead of ideas. Furthermore, India, the Philippines, and a few others leveraged the 3rd wave in creating the market of technology-based services. Unfortunately, the linear model of such success could not open an exponential growth path essential for rising to high-income status. Besides, despite having independence, countries like Bangladesh, Pakistan, Malaysia, and India could not leverage the 3rd industrial revolution to create an idea economy.
Software-Centric Machine Intelligence Driving the Fourth Industrial Age
Semiconductor evolution in driving the 3rd industrial revolution has created a new technology core. Technology core based on sensor, software, data analytics, machine vision, and connectivity has been gaining momentum to replace human's cognitive role in the production and usage of products. As a result, products and production processes are poised to go through another wave of reinvention, making them artificially intelligent (AI). As a result, they will be more efficient, effective, and safer. Furthermore, electrical battery, hydrogen, and fuel cells are poised to replace the energy technology core. The cumulative effects of these possibilities will likely have a major transformational impact over the next fifty years, unfolding the 4th industrial revolution.
Like in the past, during the Fourth Industrial Revolution, epicenters of many products will migrate due to the rise of reinvention waves, unleashing creative destruction force. China will likely be a new major driver in unfolding the fourth industrial revolution. Hence, there is a possibility that China may rise to high income status by creating an idea economy. Unfortunately, South Asian Countries have yet to understand the reinvention dynamics—let alone driving it to reach a high-income level by creating an idea economy.
History of STEM Unveils Russia's Failure in Driving Prosperity from STEM
Despite significant performance in scientific discoveries and inventions, Russia's success has been in leveraging them to sharpen weapons and extract petroleum and minerals. Due to a lack of profit-making competition through the evolution of inventions, Russia could not succeed in creating an idea economy for driving innovation for civilians. Hence, the role of the market is vital in leveraging an endless flow of ideas for reaching and sustaining high-income status through an idea economy.
Rising STEM Education, R&D, Publications, Patents and

Startups

—History of STEM Tells not good enough
Upon observing the rise of natural resource-poor countries to high-income status by leveraging technology, many less developed countries have been accelerating STEM investment. As if there has been a natural correlation between STEM indicators like graduates, publications, and patents, and economic prosperity. Unfortunately, it does not exist. Instead, creating economic value from STEM demands creating an idea economy by winning the global reinvention and innovation refinement race. Due to a lack of focus on understating wealth creation dynamics out of STEM possibilities in a competitive market, these countries will likely end up with disappointment in accelerating STEM investment.
During the rise of 1st, 2nd and 3rd industrial revolutions, countries driving reinvention waves through a flow of ideas succeeded in creating high-income jobs for their STEM graduates. In the absence of such a role, how will less developed countries leverage STEM competence?
Besides, during the 3rd industrial revolution, increasing automation of knowledge and ideas needed in production left only Innate abilities humans to supply for replication. Thereby, low low-skilled work force of less developed countries qualified for factory jobs. Consequentially, less developed countries gained manufacturing jobs, while advanced ones succeeded in creating high-paying idea jobs for automation and innovation.
Unfortunately, further progression of automation will likely lead to the disappearance of those jobs. Ironically, development economists to whom less developed countries go for advice do not have sound theories to guide such nations to leverage STEM to drive prosperity to reach high-income status. On the other hand, STEM experts seem to believe that the quality of STEM education, the number of graduates, creativity, publications, and patents are sufficient to justify additional investment. Hence, it's time to draw lessons from history to figure out how to excel in STEM and drive prosperity by creating an idea economy.
Please Note:
This article is part of a book, Engineering Economics and Management–Modern Day Perspective.