Electric vehicle disruption force has been gaining traction day by day. The global electric vehicle stock passed 5 million passenger cars in 2018, and the growth continued to 10 million units in 2022. More importantly, EV adoption experienced a 63% increase in 2018 from the previous year. In this race, Tesla is a forerunner indeed. The track record of delivering between 367,000 and 368,000 units in 2019 has made Tesla a leading EV producer. On top of it, Tesla's Model 3 has become the world's best-selling plug-in electric vehicle model. Moreover, Tesla and its iconic Elon Musk are known as pioneers in EV Innovation. In addition to it, Tesla is in a race to add the Roadster, the Model Y, and the widely anticipated Cybertruck. Indeed, such developments are remarkable, underscoring the electric vehicle disruption reality. However, will Tesla be the disruptor in driving the EV creative destruction wave?
Moreover, Tesla has also entered into world's most attractive EV market. Already, Tesla's new Shanghai plant has started to roll out Model 3 electric sedans. Some analysts are even predicting that Tesla's such recent development will likely cause a burst to China's EV bubble, having about 100 Chinese Startups developing electric cars. However, these recent developments have pushed Tesla's share price from low USD211 to high USD1429 over July 10, 2019–July 10, 2020 period.
Despite all of these shining records, is there a reason to believe that Tesla will likely fail to lead the Electric vehicle disruption force to cause destruction to the global automobile industry? What are the factors we should take into consideration to shed light on this intriguing question? 
Rising of electric vehicles
There has been a growing concern about pollution caused by gasoline-powered vehicles. Recent studies indicate that the global welfare loss associated with transportation-attributable deaths was approximately $1 trillion in 2015. In numbers, global deaths by transport emissions increased from 361,000 in 2010 to 385,000 in 2015. To reign it, there has been increasing regulatory pressure on automobile companies. Despite the progress, the underlying technology core was limiting the scope of making further improvements. The inherent nature of the gasoline engine produces emissions. Even technology limitations forced diesel engine-based automobile producers to compromise emission data raising lawsuits. Hence, there was an urgency of finding alternative technology to power automobiles.
The initial emergence of EV
Indeed, the automobile started the journey with an electric battery as opposed to internal combustion engines. In the 1860s, there was experimentation with battery-powered automobiles. To outperform Carl Benz's internal combustion-based automobile, in 1888, German inventor Andreas Flocken invented an Electric Vehicle–Elektrowagen. He set out the first test drive with his newly invented 900-pound wooden EV. Unfortunately, after a two-and-a-half-hour ride, just when he was about to reach the village of Redwitz, his Elektrowagen stopped as it ran out of battery. Since then, the internal combustion engine has been showing ever-increasing performance over the battery, making it the preferred source to power automobiles over the last 130 years.
The rise of lithium Batteries gave a 2nd life to EV
The increasingly stringent automobile emission issue, particularly in California of the USA, encouraged some innovators to look into fuel cells to power automobiles. Particularly, the introduction of the Zero Emission Vehicle (ZEV) Mandate by the California Air Resources Board (CARB) in 1990 was a trigger point. Research activities and start-ups started to pop up in the 1990s. In 1998, dwellers in Chicago and Vancouver witnessed fuel cell-powered zero-emission bus demonstration projects. As opposed to burning gasoline in cylinders, the fuel cell produces electricity from hydrogen to drive motors to power transmission. Despite initial success, the fuel cell was showing slow progress to be an economically better alternative to gasoline engines.
In the meantime, lithium-ion battery was progressing, particularly to keep meeting the increasingly stringent demand of mobile phone handsets. The continued progression of the lithium-ion battery, making it increasingly better and cheaper simultaneously, drew the attention of innovators at the dawn of the 21st century. While automobile behemoths were busy manipulating emission data and settling lawsuits in the court battles, in 2003, Martin Eberhard and Marc Tarpenning started the journey of Tesla Motors, an American electric-automobile manufacturer. Subsequently, Elon Musk got involved with Tesla, succeeding Deev Drori as CEO in 2008. To be more factual, it has been the 2nd life of EV.
Technology core of the electric vehicle
In the late 1990s, EVs started to roll out with the power produced from hydrogen by the fuel cell. They were zero-emission demonstration 03 buses running over two years. Nevertheless, it gave them hope of making air cleaner through EV. Despite the urgency and demonstration, fuel cell technology was showing very slow progress to be better as well as cheaper to make substitute gasoline engines. Due to this reason, current generation EVs are mostly powered by electric batteries. To be more factual, the lithium-ion battery is used as a replacement for a gasoline engine.
Despite the rapid growth of the adoption of EVs, there are serious performance and cost concerns. It takes far longer to charge the battery pack than it takes to fill the gas tank. Often, the range of driving with a full charge is far less than the distance you can drive with a tank full of gasoline. By the way, Tesla's strength in the technology core will determine how far the company will succeed in leading the electric vehicle disruption wave.
Moreover, the cost of the battery pack is as high as 3 times of gasoline engines. Even today, Tesla relies on $10,000 subsidy per car for reporting a first-ever annual profit after 17 years of its journey.
Growth trend of Battery technology
The rise of EVs as a better substitute for gasoline engine-powered automobiles requires the battery pack to keep improving. It should reach the target of being fully charged in less than 05 minutes. The range should also increase over 500 kms for a mid-level family car. Moreover, without the need for subsidy, EVs should be cheaper than their gasoline counterparts. The huge battery pack weighing as high as 1000 lbs in a typical family sedan holds the key.
Of course, there has been advancement. It's a remarkable progress, indeed. Major battery makers are in the race of R&D for scientific discoveries and turning them into product and process features. So that they succeed to store more energy at a faster rate in the same amount of material. The progress is impressive that the Nobel committee awarded the Nobel prize for it. One of the winners, Akira Yoshino has a long track record of engaging with Asahi Kasei Corporation in Tokyo to make continuous improvements.
Yes, it has been contributing to making batteries better as well as less costly to produce. For example, the cost of storing per kWh energy has fallen from $1000 in 2008 to less than $100 in 2020. Similarly, energy storage density has almost tripled since 2010. By the way, energy density determines the range from the same weight of the battery pack, say 500 kilograms. Nevertheless, the battery pack has a long road ahead to be better as well as a less costly substitute for internal combustion engines. By the way, a sign of saturation in the growth trend of lithium-ion battery technology is already raising the question about how EVs may progress relying on it.
Patent holdings of batteries
During 1997-2017, 3,330+ patent families comprising 8,980+ patents were published for Lithium-ion Batteries. During the period 2009-2014, there was an exponential growth of patent publications, rising from 300 to 1300 per year. But it remained flattened over 2014-2017, reaching close to 1300 per year. The trend in patent families also experienced similar growth. Among the top ten battery patent filers in 2018-2019, LG is at the top, followed by Toshiba. Panasonic, with a history of almost 100 years in the battery business, is another strong lithium-ion patent holder. There are also automobile companies like Toyota and Audi. But unfortunately, Tesla is not among them. However, there has been recent news that Tesla has patented a new "tabless" battery cell design. Moreover, in solid-state battery technology, Toyota is at the top in patent ownership, based on patent publications between 2010-2018.
EV as a force of creative destruction
The major difference between conventional automobiles and EVs is the battery pack. The battery is attempting to substitute the internal combustion engine. The performance of this technology core is going to determine how far EV waves will cause destruction to gasoline vehicles. Like many other emerging technology cores powering the next wave of innovations, the lithium-ion battery also emerged in a primitive form. Fortunately, it was amenable to growth through R&D. But it does not keep progressing linearly with time. It has a natural tendency to face the law of diminishing returns. Despite the success of rapid adoption, it's not clear whether the past trend will keep continuing, subsequently making batteries a better as well as a less costly alternative.
In the past, many technologies reached saturation or moved to a slow lane before reaching the performance targets. One of the examples is the Fuel cell. Lately, autonomous driving technology showed a saturation sign before taking over the capability of human drivers. Moreover, there has been steady progress in hybrid electric vehicles, which require a battery as a complement to gasoline engines. With the given additional progress to make, it's not clear yet whether the EV wave will succeed in reaching the height to cause destruction to gasoline engines in powering automobiles. Let's make the assumption that EVs will eventually emerge as a better and less costly substitute to gasoline-engine-powered automobiles. Does it mean that it will also electric vehicle disruption to unleash disruptive force to the automobile industry?
What does it take to fuel electric vehicle disruption force?
Often Schumpeter's creative destruction and Christenson's disruptive innovations are used alternatively in explaining technology innovation dynamics. Moreover, there is a tendency to refer to being disruptive in a causal manner. However, they have a clear demarcation within the technology innovation dynamics in a competitive market. Creative destruction refers to the uprising of a substitution based on emerging technology core. Once this substitution surpasses the quality and cost barriers posed by the incumbent, customers start substituting. Subsequently, incumbent innovations around the matured technology core suffer evaporation of demand. Prof. Schumpeter articulated it as creative destruction.
The creative destruction caused by the rising wave does not necessarily cause disruptions to existing firms. If incumbent firms having dominance in existing products around the previous wave of technology fail to switch to the next wave at the point of switchover between two waves, incumbent firms and industries suffer from disruptions. For example, along with the uprising of EV, will Toyota or BMW suffer a loss of business? Will they lose all their future customers to Tesla? For example, with the uprising of the digital camera, Kodak suffered a massive loss of customers. As a result, Kodak suffered from disruption.
Response of incumbent automobile companies
Unlike Kodak, incumbent automobile firms are not avoiding EVs. Along with Tesla, dominant firms like Toyota or Nissan have their EV models. Moreover, all major gasoline automobile producers are now in a race to release EV versions of many of their popular models. On top of it, many of the conventional automobile makers have a growing patent base in next-generation battery technology. Moreover, Tesla does not have a proprietary technology base in the battery. It has been sourcing this key technology block from Panasonic and others. And these battery makers are also offering the same technology to conventional automakers like Toyota or BMW. Therefore, it might be said that the technology strategy will largely influence whether Tesla will succeed in leading the electric vehicles disruption wave, unleashing destruction to existing automobile behemoths.
Likely outcome—will Tesla fail to lead the electric vehicle disruption wave?
In order to cause disruption to the businesses of incumbent firms, startups pursuing the next wave of innovation should have a strong patent portfolio around the emerging technology core. For example, Carl Benz succeeded in causing disruption to horse wagons. Similarly, Sony caused disruption to RCA and, subsequently, to Kodak. In succeeding to do so, they pursued vigorous R&D in advancing emerging technology cores and developing a strong patent portfolio. For example, Sony acquired patents on Transistor technology and electronic image sensors.
Excludability matters
The excludability of ideas matters for creating switching barriers to the incumbent firms. By the way, incumbents failing to switch to emerging technology core at the inflection point is a key requirement for causing disruption to dominant incumbent firms. Unlike the past disruptive success stories, dominant firms in the gasoline automobile business, like Toyota, have strong patents in battery technology–notably in solid state. Moreover, Tesla has been depending on Panasonic, lately CATL, for advancing and sourcing battery technologies.
Upon opening EV patents for the public in 2014, Tesla has recently shown interest in gaining proprietary technology in the battery. By the way, the main cost component of an EV is its battery pack and battery cells. It's this battery that will largely determine the success. In conclusion, it might be fair to say that EVs will likely grow as a wave of creative destruction to gasoline vehicles. In spite of those successes, it's highly unlikely that Tesla will succeed in causing disruptions to the businesses of incumbent automakers.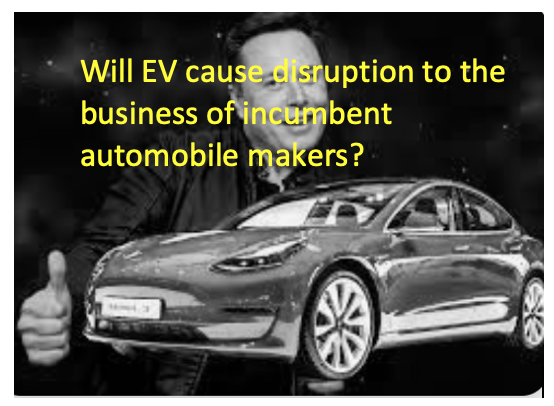 Lack of ownership of patents by Tesla weakens the disruptive force
Due to the lack of ownership of patents of core technologies and weak internal capacity to keep advancing it, Tesla runs the risk of losing the opportunity to grow as a dominant force in the EV business. On the other hand, the uprising of EV due to the entrepreneurial act of Tesla around new technology core will unlikely cause the Wealth annihilation of incumbent players like automobile behemoths of Japan and Germany. In a word, the existing dominant automobile makers will unlikely tumble to the uprising of EVs. Does it mean that the failure of Tesla to lead the electric vehicle disruption force will partially serve the purpose of the Market Economy?
Rather a labor-saving effect of EV will strengthen the competitive advantages of automobile industries of high-wage countries like Japan and Germany. By the way, due to a labor-centric value-addition strategy and having no footprint in EV, India's automobile industry runs the risk of disruption due to the rising wave of electric vehicles.