Despite having so much advancement in science, technology, publications, and patents, why are we witnessing astronomical failure rates in startups? Why are more than 80 percent of product innovation retiring before generating profitable revenue? The top reason is the mismatch between the products innovators offer and customers' demands. How to solve it? In addition to many other issues, we need to focus on empathy skills for feeling customers' untold pains in performing their jobs. Due to weakness in empathy skills, innovators are failing to deliver appropriate features to impress customers.
Empathy skill is about the ability to relate to others' experiences, even if they don't directly describe their feelings or thoughts. This skill is at the core of determining what features a product should have, its interface, and so on. The ability to feel the difficulty customers are having in performing their jobs by deploying existing products is vital to figure out imperfections, ideas to address them. Although we believe that innovation is about creative sparks, the challenge is to deliver products in alleviating customers' untold pains. In this mission, a sudden spark is not good enough. We need a flow of systematically connected ideas.
As we know, no product succeeds as a big bang. The success progressively unfolds through the release of successive better versions. A spark may kick start a product, but the success out of evolution demands a flow of ideas. How to create that flow over decades is a daunting innovation challenge. In retrospect, empathy skill is at the core for systematically producing a flow of ideas.
Steve Jobs innovation secret—empathy:
We all know that Steve Jobs had sharp attention to detail. He could see a big difference in slight variations. Finding imperfections in most of the products was his habit. He targeted to address a few of them, such as user interfaces of computers, portable music players, mobile phones, and tablet PC. Steve's secret of innovation was to fix imperfections of existing products. He had the capacity to feel deep and envision changes in helping customers to perform their jobs better.
For example, while incumbent players were busy designing a full qwerty keyboard for next-generation smartphones, he deeply felt the need for a bigger screen. Hence, he got deeply involved in exploring possibilities for keyboard-less design for a bigger screen. Furthermore, upon conceiving technology possibilities, he got involved in reaching the limit in perfecting features for giving impressive experiences to users that they did not even imagine—let alone asked for it.
He was always after pushing technology limits in delivering the best to address the deeply felt customers' pain points. Hence, instead of asking the technology team what they could provide, he used to challenge their limits to address imperfections he felt. Hence, in perfecting innovations, he used to scour technology possibilities instead of getting limited with easily available options. For example, to get a dime-sized hard disk for his iPod, he went all the way to Toshiba's labs to get the solution that nobody had asked for before.

Empathy skill is at the core of successive release of better versions in showing innovation magic:
Due to solid empathy skills, Steve's Apple team keeps finding ideas in improving existing products. This capability is at the core of Apple's successes in releasing successive better versions of the same products. Hence, instead of pursuing many products, Apple has been showing magical performance with a few ones. Through successive releases, Apple has been succeeding in diffusing its products deeper into society. Consequentially, the same number of products have been producing a growing revenue and profit. In this journey, the challenge is to feel how customers will like envisioned features and how much they will be willing to pay for them before having those features.
Japanese outperform in innovation race due to empathy:
Japanese companies have become global leaders in many products without being the first to roll out. There have been many such examples, from automobiles, cameras, televisions, and disk drives. What is the secret sauce? It appears to be empathy. As we all know, irrespective of the greatness of ideas, all innovations begin the journey in primitive form. Success is not about being the first. Instead, the challenge of being successful is to succeed in consistently making incremental advancements for making the products increasingly more suitable in helping customers get their jobs done. Getting that flow of ideas in penetrating deeper in assisting customers is a daunting challenge. In many cases, the challenge is in delivering those features those customers feel, but do not know how to express.
Japanese culture has a delicate touch. Japanese deeply feel the emotions and pains of others. Such feeling is reflected in how they speak, exchange greetings, arrange and serve food, and take care of others. For this reason, they have developed a passion for perfection. They always find imperfections in the product they produce and use. Besides, upon detecting imperfections, they do not stop. Instead, they embark on a journey in fixing it. This trait out of empathy is at the core of Japanese success in many products they did not invent.
Japanese empathy skill is at the core of detecting and fixing imperfections:
For example, upon seeing the Microwave Oven invention, the Japanese got intrigued due to its quick heating capability. But they detected imperfection. Hence, instead of focusing on manufacturing that oven, they embarked on research and development. Consequentially, a decade-long R&D led to perfecting Microwave ovens for household use. As a result, Japanese companies became a global leader in this remarkable product that America's Raytheon invented. The Microwave oven is not an exception. In many products, Japanese companies have taken away the lead from inventors due to their superior performance in addressing imperfections. Furthermore, they keep getting deeper into customers' feelings, resulting in an endless flow of ideas to make existing products increasingly better.
Sharpening empathy skills for evolving innovations:
Unlike hard skills, empathy belongs to our inherent ability. But it varies; some people have a far deeper feeling about the pains and happiness of others than many of us. Interestingly, we can sharpen it. But unlike hard skills, we cannot teach it just by lecturing. In many cases, customers are so accustomed to current conditions that they feel the existing way as the way of life. They don't think to ask for an alternative solution.
Hence, there is a need for silently watching consumers while they are busy getting jobs done. It's useful to identify key performance indicators in assessing how products they are using helping them. We should observe how well target products fit with others to allow customers to execute a growing number of tasks. We should also observe how customers retrofit target products to serve their purposes. Besides, we should observe how current and potential customers have been encountering problems with the target products or services that they don't know can be addressed. They may not even recognize them as problems. The focus should be on detecting those features that people cannot envision, which would be beneficial.
Empathy skills for solving innovation challenges:
As we mentioned, the success of innovation does not show up as a creative spark in the mind of creative genius. For helping customers in getting jobs done better, innovators feel the necessity of new or improved products or processes. Besides, innovative products do not appear as breakthroughs, creating appeal to all potential customers. Instead, they show up in primitive form. Success distills from the evolution out of incremental advancement. Hence, we need persistent empathy in finding a flow of ideas of adding or enhancing features so that the innovation keeps penetrating deeper in society.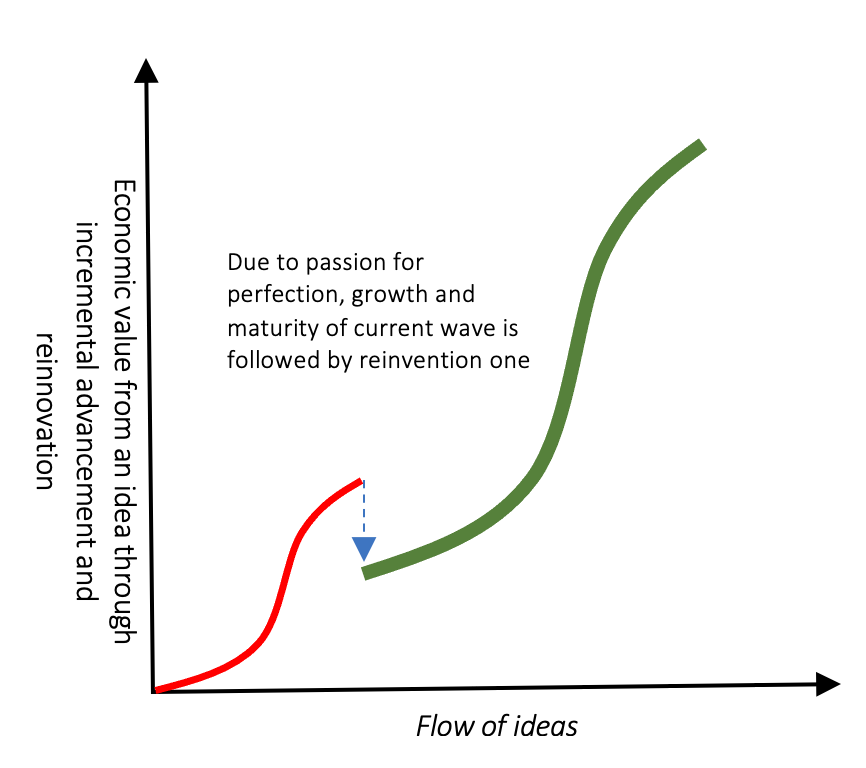 Furthermore, in a competitive market, competition shows up with counteroffers in the form of replication, imitation, innovation, and substitutions. Hence, innovations face the reality of suffering from the erosion of wiliness to pay. Therefore, innovators need to keep releasing successive better versions for sustaining innovations in creating increasing appeal to customers. Without empathy skills, how shall we get that flow of ideas in increasing the attractiveness of the innovations?
Leveraging externality effects is another source of making the innovations more alluring to customers. For having suitable features for leveraging unfolding externality opportunities, we need to have strong empathy skills in observing customers' surroundings. Furthermore, every innovation reaches saturation, blocking further diffusion. For example, due to environmental implications, many innovations face diffusion limits. Hence, empathy skills should create a strong passion for overcoming limitations through reinvention and reinnovation.     
...welcome to join us. We are on a mission to develop an enlightened community by sharing the insights of 

wealth

 creation out of technology possibilities as reoccuring patters. If you like the article, you may encourage us by sharing it through social media to enlighten others.