With the impending threats of losing inventions to China, there have been trading policy frictions between the USA and China. Despite intellectual property rights, inventors lose their grip on their inventions, turning themselves into importers. Is it due to intellectual property thefts, host governments' preferential treatment, and low-cost labor advantage? In retrospect, the significant underlying force of the migration of inventions has been the episodic evolution of inventions. Due to it, many European inventions migrated to America. In return, America lost a few of them to the Japanese. To overcome maturity, inventions go through reinventions, forming a creative wave of destruction. A series of such reinventions lead to the episodic evolution of inventions. At the junction of two waves, often, dominant firms suffer from decision dilemmas and fail to switch to new waves. Consequentially, inventions migrate across the boundaries of firms and countries.
Starting from the telephone, electricity, transistor to the computer, all technologies got invented in primitive form. Hence, inventions create very little or no economic value in the beginning. Often, those inventions sit on the shelves, and inventors keep looking for the opportunity to license them. For example, upon creating a buzz out of the creation of the phonograph, Thomas Alva Edison could not find a profitable commercial opportunity. Similarly, in the beginning, Nobel Prize-winning inventions like Transistor and Electronic image sensor showed only faint potential. Hence, Bell Labs, like many other inventors, got desperate to license them. Surprisingly, some of the inventions are amenable to progression. In addition to incremental advancement, they also grow out of reinventions.
Race of evolution leads to migration:
Due to the race of incremental advancement and reinventions, sometimes, lead firms or inventors' loss the edge, leading to the migration of invention edge. In addition to migrating from one firm to another, sometimes, inventions also migrate to other countries. For example, during the evolution in the 1940s, television migrated from the UK to the USA. Later on, it migrated from the USA to Japan.
Episodic evolution of inventions:
Despite creating a buzz, more or less, no invention creates economic value at the beginning of the lifecycle. In hindsight, the success of economic value creation from inventions is in the evolution. They begin the growth through incremental advancement. For example, in the beginning, Edison's light bulb could only last for a few years hours. Hence, Edison set up an R&D center in 1899 for generating a flow of ideas for incremental advancement. Despite the steady improvement over 60 years, the progress of incandescent light bulb reached saturation.
Interestingly, inventors found an alternative technology core, fluorescence, to reinvent the light bulb. Like the light bulb, many other products went through reinvention for overcoming the growth limit due to the saturation of the matured technology core. For example, Television, Phonograph, Telephone, and Camera, among many others, have already gone through several reinvention exercises.
Interestingly, all the reinventions around emerging technology core began the journey as an inferior alternative, despite the greatness. For example, the digital camera in the 1980s was an inferior alternative to film ones. Hence, inventors get in the mission of keep progressing reinvention waves out of the flow of ideas. Sometimes, those reinvention waves reach the inflection point in taking over the incumbent ones—creating the effect of creative destruction. The incremental progression of both the invention and reinvention waves is like a metamorphosis.
Sustaining
innovation

race leads migration of invention epicenter:

During the metamorphosis phase, there is also race among competing firms. Once a product shows profitable opportunity, followers start responding with replication, imitation, and also innovations. Hence, willingness to pay for products out of inventions develop a natural tendency of drifting downward. To deal with it, successive better versions must be released. In some instances, followers start releasing better versions than leaders or inventors could offer, leading to migration of edge.

For example, in 1956, IBM invented the hard disk drive. Subsequently, IBM rolled out 5MB innovations weighing 1 ton in 1957. Like many other inventions, the hard disk also emerged in primitive form. Due to the increasing demand for data storage, competition started to unfold in the 1960s. After almost 20 years of the first rollout, Japanese Toshiba entered the hard disk evolution race. Interestingly, Toshiba took over the edge in hard disk advancement from IBM and became a global leader. There have been many such examples of migration of inventions due to the race during the metamorphosis phase.
Creative destruction and disruptive innovations lead to migration: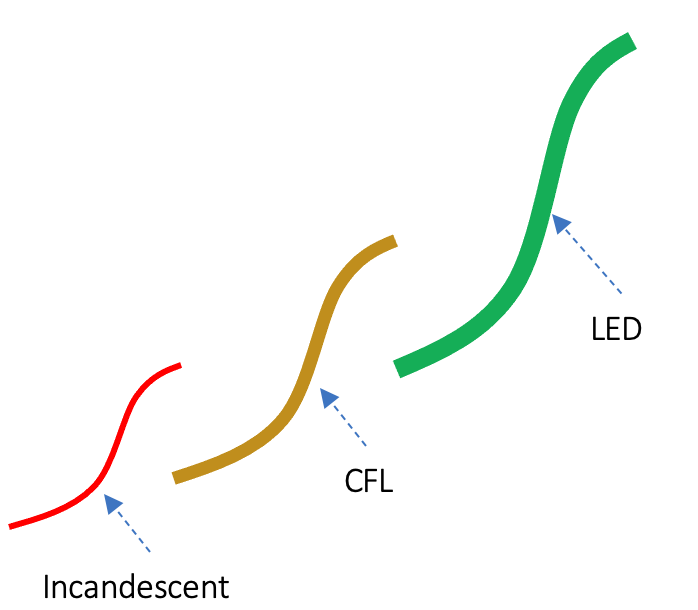 As explained, unvaryingly, all reinvention waves emerge as inferior alternatives to incumbent products around mature technology core. For example, the LED light bulb in the 1990s was inferior to CFL. But some preferred technologies are amenable to progression in improving the reinvention waves. Sometimes, those reinvention waves lead to the creative destruction of existing mature products. Besides, managers of incumbent firms often suffer from decision dilemmas for making timely switching to or initiating the creative wave destruction. Hence, they suffer from disruptive effects. As a result, once-dominant firms lose the business, leading to the migration of inventions. For example, GE invented the light bulb. Despite its success in the 2nd reinvention wave out of fluorescence technology core, GE lost the lighting business due to the disruptive effect of reinvention out of LED.
Example of the episodic evolution of inventions leading to migration: Phonograph
In 1877, Edison invented the phonograph, a means of recording and playing back sound. In those days, it was a magical invention indeed. After almost ten years of creation, its evolution began with a flow of incremental advancement. However, in the 1920s, it was reinvented by changing acoustic technology core by electrical. Interestingly, it was done by Western Electric. Hence, the edge of music recording and playback migrated from Edison's company.
Subsequently, in the 1950s and 1960s, electric means was reinvented by electronics and magnetic tape, leading to the migration of phonography inventions from America to Japan. Over almost five decades, Japanese companies showed remarkable performance in phonograph evolution and innovations, leading to Sony's Walkman. Japanese companies also retained their edge during the next reinvention by changing the mechanical technology core with optical. However, the MP3 reinvention wave led to causing a disruptive effect to Sony, leading to the migration of music innovation to America's Apple. Subsequently, it has migrated again due to the replacement of downloading technology core with steaming services.
The uprising of Japan due to episodic evolution of inventions:
In the 1960s, most Japanese products were inferior to mature products offered by American and European firms. One of the reasons was that Japanese companies embarked on offering reinventions. Due to the growth of the underlying technology core, like Transistor, Japanese products started to form creative waves of destruction. In many cases, they unleashed disruptive effects on American and European firms. Hence, Japan succeeded in creating a modern industrial economy out of the migration of technology products due to the episodic evolution of inventions.
China's intention to replicate Japan's success:
Upon trying to build an industrial economy out of manufacturing, China figured out that it did not give many edges. Particularly, upon attaining significant success out of automobile manufacturing, China figured that making is not the way to create a high-value industrial economy. Hence, upon drawing lessons from Japan, China has embarked on migrating inventions out of episodic evolution. It has already shown success in Electric vehicles and 5G communication gears.
In the discourse of industrial dynamics, often, the discourse of episodic evolution of inventions leading to migration does not get much priority. But in retrospect, the episodic evolution of inventions is a powerful force for the creation, destruction, and migration of epicenters of many inventions. However, due to the growing complexity of reinvention, creating successes out of episodic evolution demands a national level synchronized response.  
...welcome to join us. We are on a mission to develop an enlightened community by sharing the insights of 

wealth

 creation out of technology possibilities as reoccuring patters. If you like the article, you may encourage us by sharing it through social media to enlighten others.