Why are people slowly responding to adopting electric vehicles? But why has the adoption of smartphones rammed up? Aren't Rogers' Innovation diffusion theory and Geoffrey Moore's Crossing the Chasm model good enough to comprehend such technology adoption behaviors? Unlike diffusion of innovation as a public good, technology adoption is shaped by multiple forces. Contrary to social issues, the economics of value creation plays a vital role in technology adoption. On the other hand, crossing the chasm demands far more than sharing information and waiting for a social response. The presence of chasm is underpinned by the unique requirements of each customer group and the level of technology maturity and externalities to meet them. Due to the technology adoption model's inadequacy, innovators often face difficulty making rational decisions for leveraging technology possibilities. Hence, for having a more appropriate model, this article focuses on diverse aspects affecting technology adoption.
Technologies are born in an embryonic form. Upon reaching the adolescence period, they start taking workload. However, we do not adopt technology in its raw form. We derive economic value from them through product, process, and business model innovation. For example, despite the enormous contribution of electronic imaging technology, the sensor itself does not help us get any job done better. As economic incentives drive human beings, technology adoption depends on the customers' monetary value from innovations. Due to the high variation of purposes to be served and economic value that distills from them, technology adoption by different customer groups faces a chasm. Furthermore, although social capital, comprising of communication channels, time, and a social system, plays a role, a far more significant role is played out by economic value.
Technology adoption lifecycle: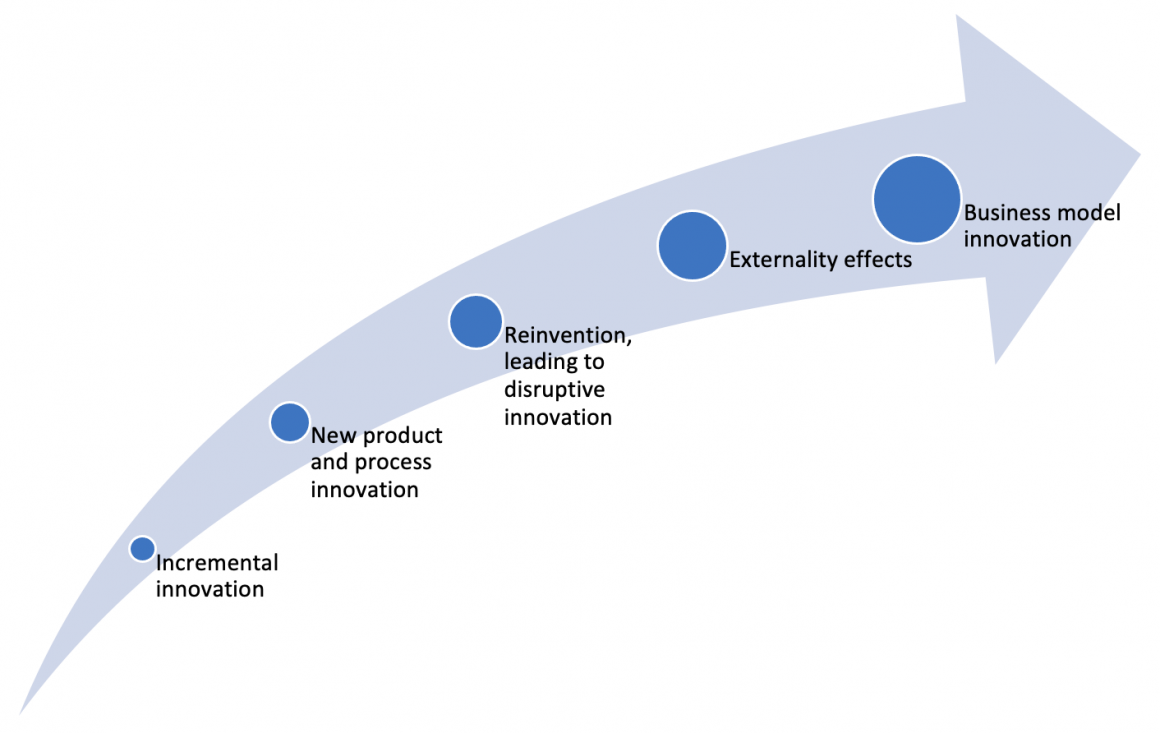 At the beginning of the lifecycle, technology adoption faces high barriers due to poor economic value creation prospects. Primitive beginning, invariably, fails to offer economic value to civilian customers. But, sometimes, it becomes attractive to a specific category of customers for being far better substitute. For example, in the 1970s, a very poor resolution digital camera was of no value to photographers; but it was precious for satellite-based imaging or missile guidance. As opposed to waiting for days to recover film canister in getting high-resolution images, poor quality images of onboard digital cameras sent by radio link offered high value for real-time surveillance.
Hence, like digital image sensor technology, the military falls in the innovator category of customers for many technologies. Contrary to curiosity or traits, the urgency of Getting jobs done better affects their likelihood of adopting technology in the early stage.
The adoption of premature technology by the military alone does not influence other categories of the customer to adopt it. For example, no amount of social communication or tactics could have succeeded to allure households, let alone professionals and students, to adopt a 5MB hard disk weighing 1 ton, in 1956. Hence, Geoffrey Moore's crossing the chasm tactics fail to empower that hard disk to diffuse through other segments. Similarly, 40kg user unit of mobile phone, sitting in car trunks in the 1950s, had no reason to cross the chasm. The underlying factor for the further adoption by other categories of customers like large corporations, small and medium-sized enterprises, households, and individuals is the congeniality of continued progression for getting suitable to power innovations for offering better alternatives. As a result, the technology lifecycle leads to adoption as progressive waves.
Technology adoption takes place through innovations:
Technologies themselves do not add value in helping customers to perform their jobs. They show up in disguise as innovation. Innovators leverage technologies in multiple forms. The first target is to innovate new products. For example, Television technology for scanning, transmission, reception, and reproduction of moving images was adopted as TV sets and production equipment innovations. Adoption of certain technologies begins the journey with the innovation of new processes. For example, photolithography technology has been the underpinning of silicon processing innovation.
Incremental advancement of existing products and processes also leads to technology adoption. For example, Incremental innovation of automobiles by attaching rearview cameras has led to the adoption of electronic image sensors and LCD technologies in cars. In some instances, the role of incremental innovation plays a vital role. For example, although the digital camera is an incremental innovation feature of the smartphone, its effect on adopting image sensor technology is extremely high.
Certain technologies also offer the opportunity of reinventing existing products and processes. For example, the adoption of electronic image sensors got a kick start due to the success of the reinvention of cameras. Similarly, graphical user interface and multitouch technologies experienced rapid adoption due to their usage to reinvent personal computers and smartphones, respectively. Hence, the role of technologies in different types of innovation affects their adoption. As all technologies are not equal candidates for different types of innovation, there has been a significant variation in their adoption models.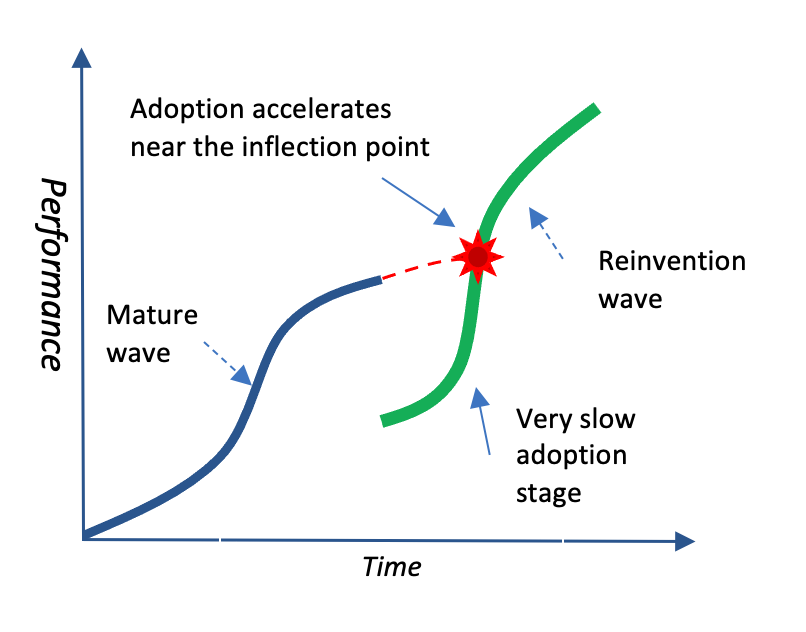 Disruptive innovation

rapidly scales up:

Leveraging of technologies for reinvention begins at a very slow adoption rate. But upon crossing the inflection point, it rapidly picks up. As reinvention invariably emerges as an inferior alternative to incumbent products around mature technology cores, existing customers do not show interest. For example, mobile phones in the 1980s were highly inferior to their landline counterparts. Similarly, digital cameras in the 1980s were relatively primitive. Hence, their adoption among major customer categories such as the early majority and the late majority was absent.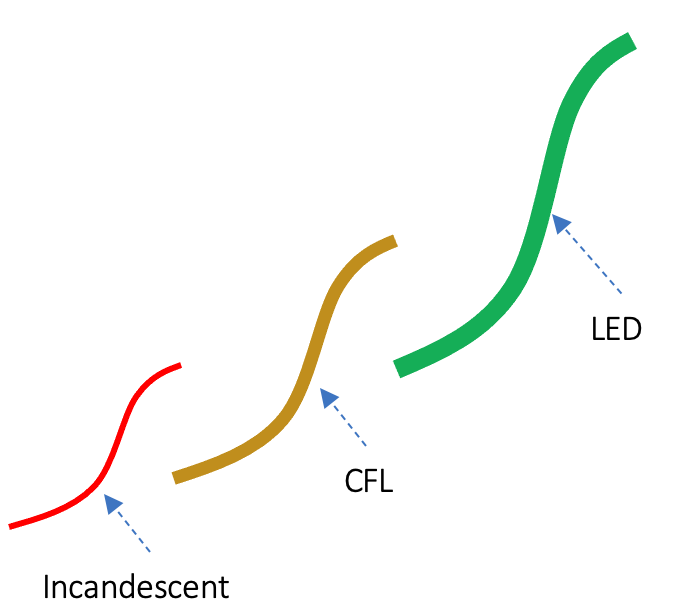 But the underlying technology cores were amenable to progression. Upon reaching the inflection point, the adoption of those technologies rapidly picked up in the 1990s. The uprising of the creative wave out of the adopted technologies led to the destruction of the demand for mature products. Hence, both new and replacement customers alike rushed to embrace digital cameras or cell phones. Consequentially, the adoption of underlying technologies experienced a sharp rise. A similar pattern has been repeated in the adoption of many other technologies, like LED.
Failure of innovation diffusion theories to take into consideration of reinvention wave forming disruptive innovation effect
It happens to be that popular innovation diffusion theories, including those formulated by Rogers and Geoffrey Moore, have not included this aspect of technology adoption. Hence, they fail to clarify the rapid surge in adoption after plodding progress. For example, the surge in sales of plug-in passenger cars reaching 9% global market share of new car sales in 2021, up from 4.6% in 2020, and 2.5% in 2019, is an indication that the reinvention wave has been reaching the inflection point.
Sustaining innovation leads to technology adoption as waves:
In the competition race, willingness to pay for innovative products experience downward pressure. Hence, sustaining innovation challenges pop up. To counter it, innovators are compelled to release successive better versions. In addition to countering the competition, the force of successive better versions also succeeds in penetrating deeper into the market. Hence, successive versions form wavelets of technology adoption, leading to the wave Theory of Innovation diffusion. As opposed to Rogers' understanding of the diffusion of the same innovation through different market segments through means of social communication, technology adoption demands a series of bursts of thrusts for penetration.
Technology externality and business model innovation:
In addition to different types of innovation and varying requirements of different groups of customers, externality factors and business models also play a vital role in adoption. For example, infrastructure has severe implications on the adoption of many technologies. The adoption of smartphones heavily depended on the advancement of mobile internet infrastructure. Similarly, charging infrastructure will have a momentous bearing on the adoption of EVs. On the other hand, externalities in the form of standardization and compatibility play an essential role. As we all know, due to standardization issues, Sony's Betamax could not penetrate beyond the early innovator segment.
Furthermore, network externality has been a growing factor affecting technology adoption. Besides, business model innovation has emerged as a compelling adoption factor too. For example, the three-party business model is a game-changer. It has been playing a crucial role in rapidly adopting social networking and content search engine services.
A single model is not good enough
With the given nature of adopting technologies through different types of innovation, Rogers' innovation diffusion theory is highly incomplete. Similarly, the conceptualization of chasm by Geoffrey Moore falls short in explaining the effect of misfit between technology maturity stages. It also fails to address the unique requirements of different customer groups with unique requirements, and disruptive innovation. Hence, we should focus on technology adoption through different types of innovation for conceiving the technology adoption model. However, there is no denying that Rogers's customer segmentation and Geoffrey Moore's Chasm are irrelevant. Furthermore, as there is a high degree of variation in means of leveraging technologies, a single adoption model will likely fall short in explaining the dynamics of adoption of every technology. Hence, we should look into the dynamics of all kinds of innovation affecting technology adoption. Perhaps, case by case technology adoption model would make more sense.
...welcome to join us. We are on a mission to develop an enlightened community by sharing the insights of 

Wealth

 creation out of technology possibilities as reoccuring patters. If you like the article, you may encourage us by sharing it through social media to enlighten others.