Uber reported a loss of $2.4 billion in the third quarter of 2021. Uber suffered operating loss of $3.0b, $4.1b, $3.0b and $8.6b in 2016, 2017, 2018 and 2019 respectively. Accumulated loss of more than $25 billion over 2016-2020 is the financial performance of a poster child of 'digital disruption.' Hence, analysts doubt whether Uber failing due to its failure of finding steps to translate its disruptive business model into "sustained profitability." Due to rides' subsidies and drivers' incentives, losses have been stacking up. Despite the occasional profits of ride-hailing rivals, the sustained profitability of Uber and other competing companies is doubted. Is there a basic flaw in this poster child digital disruption? Does an app-based interface connecting riders and drivers offer good value to cause disruption to taxi services and car ownership? Perhaps, the likely savior robotaxis for replacing the human drivers are yet to show up.
Uber brought ride-hailing ideas through connecting riders and drivers with smartphone-based App. It came up with the promise of disrupting taxi services and car ownership. As usual, in the beginning, Uber faced a typical market failure—a chicken-egg situation. Hence, to allure both riders and drivers, Uber launched its idea with subsidies for rides and incentives for drivers. Despite the increasing volume, Uber kept failing to leverage economies of scale for substantially reducing the cost.
On the other hand, customers' positive experience with App-based ride-hailing services did not increase the willingness to pay. Hence, Uber could neither increase the fare nor decrease the cost. Consequentially, along with ride volume and drivers' count, the loss also kept growing. Perhaps, this is a typical scenario of many ideas of digital disruption.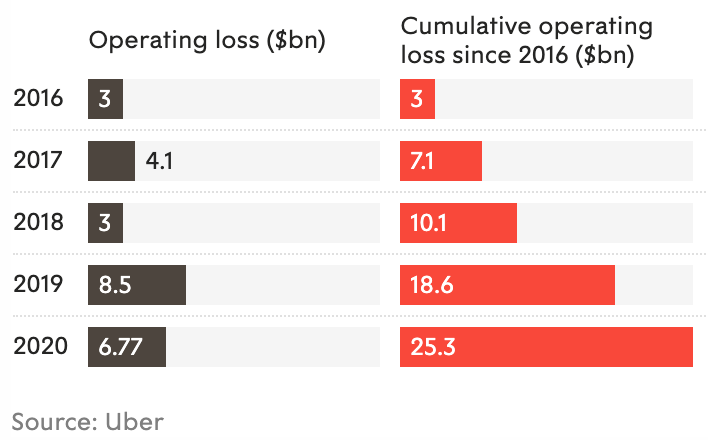 Uber failing in services and reaching profitability:
Cell phones succeeded due to the fact that quality kept rising and costs kept falling. The same is true for many other digital ideas such as smartphones, digital cameras, personal computers, word processors, and many more. But, to our surprise, customers are required to pay more and wait longer than ever before for Uber service. For example, within one year difference in some cities in the USA, as opposed to paying $10 and waiting for 3 minutes, riders are paying $20 and waiting for more than a quarter-hour. Despite Uber being perceived as the next big thing, the overall picture lately seems much like one of imminent collapse.
In making Uber IPO the second biggest in U.S. history, why could not analysts figure out the underlying weakness? Were the investors after the magical power of Silicon Valley in doing the valuation? Why could not they figure out the underlying soil condition of Silicon Valley's clay-footed giant?
Economics of ride-hailing: subsidies to make the alternative affordable
To get to the basics, we should look into the economics of the democratization of the chauffeur experience. Of course, customers like an easy, affordable way to get around without the commonality of public transit or the dinginess of cabs. But what is the cost to deliver them, and are customers willing to pay for it? To make this better alternative profitably affordable, can the Uber platforms minimize transaction costs far beyond the level the traditional companies like taxi companies can. As long as you need a driver, Uber cannot do it. Although App-based calling, monitoring, and billing increase the convenience, it cannot cut the cost components such as the market value of drivers working hours and additional maintenance costs.
Despite the hailing role model of the gig economy, economists are pointing to Uber's woeful inefficiency to explain why Uber is failing. It seems that the company's business model and grand strategy are based on innate inefficiency– "growth at all costs." It boils down to relying on regular injections of investors' money to cover the loss caused by subsidies. Does it indicate a wrong understanding of how to reach profit from technology innovation?
There is no denying that all great technological innovations, starting from digital camera to cellphone, rolled out at a loss. Yes, initial sales needed subsidies. But the continued injection of investors' money did not turn those loss-making beginnings into profit. The underlying success factor has been innovators' ability to keep producing and adding ideas to improve quality and reduce costs simultaneously. App-based service delivery platform ran out of idea steam very soon. What else has Uber brought in addressing efficiency? Besides, upon keeping the technology core the same, what was feasible for Uber to unfold innovations? To make it worse, Uber went into predatory pricing.
Predatory pricing for killing taxi services and ride-hailing competing
startups

:
As Uber could not create the needed flow of ideas for improving the quality and reducing the cost, the loss kept piling up. To make it worse, Uber came up with predatory pricing. The strategy has been to make taxi companies bankrupt and push competing ridesharing companies out of business too. Hence, it is desperate to expand the volume with deep subsidies. Surprisingly, investors were finding it a magical digital disruption formula. The grand plan has been to achieve market dominance in urban transportation through predatory pricing. Subsequently, it will proceed to exercise artificially achieved market power to turn the loss into profit finally. Ironically, Uber keeps practicing this apparent unethical strategy giving the impression that they are unfolding digital magic.
With the promise to revolutionize the economy, seemingly, Uber has not been producing any new value out of innovation. Instead, it has been after throwing away investor capital and taking no responsibility for their gig laborers.
Uber failing as Robotaxis are stuck due to technology uncertainty:
Well, without practicing all those nasty bits and pieces, Uber's grand strategy could have succeeded if Robotaxi had arrived on time. If Uber could have a taxi fleet without drivers, the ride-hailing economics could have been pretty different—higher quality at far less cost. For sure, robotaxi could have enabled Uber to revolutionize the economy and redefine the way people move around in their environment.
Since DARPA demonstrated Navlab in the 1980s, people have long been after autonomous vehicles. For sure, it's not challenging to make line-flowing robots or equip conventional cars to move by themselves flowing GPS coordinates. It's not also that difficult to equip automobiles with sensors and train a neural network to recognize obstacles in perfect conditions. Such demonstrations created the impression that autonomous cars were very much within the range of the AI firepower of Silicon Valley. But after burning $80 billion in R&D and showing some demonstrations, innovators are stuck with their killer AI magic. The problem has been scaling up memorization-based intelligence to cope with infinite variations of the real world and deal with subtle intuitive signals. By the way, like autonomous vehicles, many AI or digital innovation magics are caught in the last mile.
Underlying success factors: why cannot uber avail?
Whether digital, AI, or not, the underlying success factors of innovation are scale, scope, and network externality effects. Irrespective of the latent magical power, all innovations emerge in primitive form—generating loss-making revenue. The challenge is turning that loss into profit and simultaneously expanding the market with ideas. Ideas should create technological economies of scale by improving quality and reducing costs. The next option is to have a family of products around reusable core assets so that economies of scope advantage positively contribute to both quality and cost. And the next one is to create a network externality effect. For sure, Uber made progress in those success factors. But its users' side app and backend cloud-based data analytics ran out of steam well before reaching the threshold level.
The next option for Uber to progress in those critical success factors is to have a robotaxi fleet. Unless the Robotaxi fleet shows up, Uber's death appears to be imminent. Hence, Uber's future hinges on robotaxi.
The elusive proposition of digital disruptions:
Like Uber, many other digital disruptive magical ideas follow subsidy-driven customer acquisition for inflating valuation. Hence, a growing number of unicorns are showing up with record accumulated losses. In hindsight, it's pretty easy to show disruptive possibilities out of digitization, data analytics, and AI in many critical areas, such as health and education. But the problem is in the last mile. Upon automating codified capabilities, AI-centric digital innovations face an insurmountable barrier in taking over a human's innate abilities. Hence, like Robotaxi, many magical creations are stuck—giving the elusive impression of digital possibilities. Hence, high-flying disruptors are after disrupting their investors instead of age-old mature products, firms, and industries.
Does it mean that there is no possibility of digital disruptions? Perhaps, that is not correct. There are possibilities. But to realize them, we need to come back to the basics of innovation management out of science instead of killing products and firms by burning investors' money. The fund is still flowing as corporations, and wealthy individuals cannot figure out where to put it, but that flow is endless. Ironically, in the mission to profit from innovation, that money has been weakening the innovation base of society.   Hence, in addition to whether Uber failing, we should be asking a far more important question–is the digital possibility being highly polluted?
...welcome to join us. We are on a mission to develop an enlightened community by sharing the insights of 

wealth

 creation out of technology possibilities as reoccuring patters. If you like the article, you may encourage us by sharing it through social media to enlighten others.