In finding the answer to why great companies fail, Professor Clayton Christensen formulated disruptive innovation theory. Two business school professors came up with a blue ocean strategy in pursuit of how companies make competition irrelevant. But to the surprise of many of us, ASML lithography monopoly in making the competition irrelevant distills from sustaining innovation. On the other hand, great companies like Nikon and Canon failed to maintain their edge due to the better performance of ASML in exploiting existing technology core. More interestingly, early entrant American companies in the lithography business failed due to the superior performance of competing firms in sustaining innovation. Hence, sustaining innovation through consistent incremental advancement could lead to the rise and fall of companies. It could also lead to the creation of a blue ocean. Although we value big ideas for creative destruction, disruptive innovation, and the blue ocean, sustaining innovation offers the result.
We all are after a competition-free growing business. Hence, management gurus have been after theories in guiding us. Well, ASML lithography monopoly from sustaining innovation may also have parallel to Jim Collins' Good to Great theory. But unfortunately, Prof. Collins did not clarify how a company can distill technology core in creating the flywheel effect. He also didn't explain that this flywheel effect creation may require a series of creative destruction on companies' products. It seems that he focused on operational efficiency instead of pursuing a product innovation race.
On the other hand, technology innovation dynamics are dominated by Clayton's disruptive innovation theory. But most management scholars have left out how firms can exploit the same lithography technology, in creating a blue ocean. Hence, it's time to draw a lesson from unfolding reality. One of them is the ASML lithography monopoly in the semiconductor value chain out of sustaining innovation.
ASML lithography monopoly journey begins with old technology core and the challenge of sustaining innovation:
What is the critical building block in the US-China Chip War? Undoubtedly, ASML's EUV machine. Often, we think that for creating a blue ocean, making the competition irrelevant, or monopolizing the market, we need a great new technology core. For example, Sony, Apple, and Microsoft took advantage of emerging technology cores like electronic image sensors, graphical user interfaces, and the personal computer to create a blue ocean. But for making the blue ocean lithography business, ASML did not take advantage of a new technology core.
Upon being a late entrant, ASML kept pursuing the same technology core. Moreover, in the beginning, it faced the challenge of sustaining its maiden innovation in the market. Within one year of launching in 1984, ASML's PAS 2000 stepper became obsolete due to the offering of better products by the competitors. To counter it, ASML accelerated the speed of advancing or exploiting the same technology core. Subsequently, it kept releasing successive better versions of photolithography machines. Although early entrants like Ultratech, Eaton, and P&E fell, ASML got stronger, acquiring a 10 percent market share in the late 1980s. The continued performance of sustaining innovation led to the ASML Nikon duopoly in the late 1990s.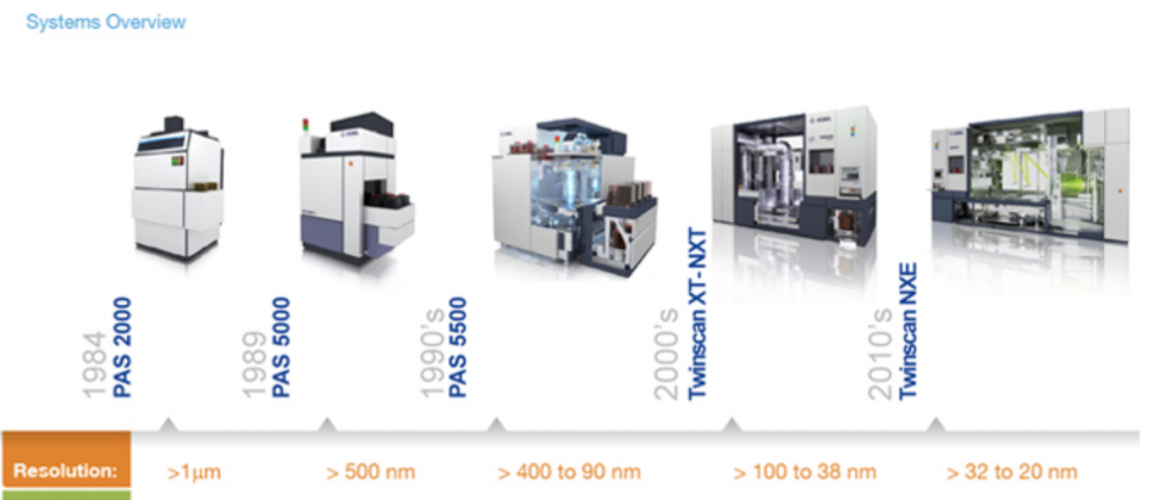 The exploitation of the same technology core leads to ASML's lithography monopoly:
Yes, ASML and its competitors like Nikon and Canon are racing to reduce the feature dimension so that customers can increase the frequency, lower power loss, and improve chief density. Hence, their products had quite a short life span. Therefore, they had to develop the institutional capacity to keep reducing feature size through shorter wavelengths and higher numerical aperture. As a result, as successive generation products kept offering decreasing feature dimensions, they kept causing creative destructions to their own and competitors' products. Hence, instead of reinvention wave out of emerging technology core and switching barriers, ASML's lithography monopoly kept emerging due to sustaining innovation. Competitors started suffering a loss on their market shares due to ASML's superior sustaining innovation performance.
ASML photolithography blue ocean out of sustaining innovation:
In the race of sustaining innovation, ASML's market share in lithography has increased from 10 percent in the late 1980s to more than 80 percent in 2021. Furthermore, competition is irrelevant in the extreme ultraviolet (EUV) market segment. Hence, the EUV lithography market in the semiconductor is a blue ocean. Interestingly, ASML has not created it with disruptive innovation or a new business model. Hence, many management theories are not in guidance of ASML's performance. Perhaps, it's the flywheel effect of Jim Collins; but that does not explain how to derive it from keep exploiting the same technology core.
By the way, ASML is not alone. Many companies have been exploiting existing technology core in an incremental manner in creating a blue ocean. As some technology ideas have the potential of increasing the value and lowering the cost, the race of exploiting the advancement of existing technology core leads to attaining unparallel performance. Upon reaching the inflection point, the best performer offers the highest quality at the least cost, making the competition irrelevant.
Furthermore, ASML's journey of sustaining innovation reduces the technology uncertainty and increases the return on R&D investment. Although more than 94 percent of patents find no commercial use, ASML's most patents are highly aligned with the advancement of its lithography machines.
Systematic exploitation of science and precision engineering for advancing key variables:
Often management books with the lesson of sustained performance, disruptive innovation, creative destruction, or blue ocean are full of high-sounding phrases. Despite the sensation, most of those phrases do not lead to guidance in implementation. On the other hand, ASML translated the whole journey into a mission of advancing two key variables—the wavelength of the light source and numerical aperture. Systematic exploitation of science and precision engineering in keep improving these only two variables kept creating the blue ocean. ASML's rise from zero to the 32nd largest company within 38 years indicates that we need to focus on the systematic exploitation of technologies for creating the blue ocean. Hence, all those high-sounding management jargons result in a few variables that we can systematically keep improving. Therefore, creating an innovation success story in a high-tech space is not about magic or playing management jargon.
ASML Lithography Monopoly is about making things better and cheaper out of a systematic flow of ideas—distilled from science and engineering. However, it does not entail that we should keep exploiting the same technology core. Irrespective of the greatness, like lithography all technology cores reach saturation. It happens that human beings develop new technology core and start forming new waves out of reinvention. Hence, we should be driving our journey of creating economic value out of ideas in an episodic manner.
However, ASML lithography monopoly through sustaining innovation also demanded creative destruction. For example, the exploitation of EUV, ASML had to develop two new technology cores: (i) EUV light source, and (ii) Mirrors-based light gathering and projection technology. Like many other technology cores, they also emerged in primitive form. It took almost 20 years for ASML to mature those technology cores to release practical innovations for producing 10nm or smaller features.
...welcome to join us. We are on a mission to develop an enlightened community by sharing the insights of 

wealth

 creation out of technology possibilities as reoccuring patters. If you like the article, you may encourage us by sharing it through social media to enlighten others. 
Related Articles: