The rise of electric vehicles (EV) risks disappearing half of automobile-making jobs and destroying oil economies. The EV reinvention wave has already created demand for cobalt and other rare earth elements. Besides, it will likely shift the automobile Innovation epicenter across the boundaries of firms and nations. Furthermore, we all know the rise of smartphones has destroyed the market of an array of products. It has also caused disruption to the businesses of Nokia, RIM and many others. Technology has been at the core of causing disruptions to products, jobs, and business. Hence, technology disruption refers to unleashing disruption to demand for natural resources, labor, products, jobs, and business due to the unleashing of the creative wave of destruction by the rise of reinvention waves powered by emerging technology cores.
Technology cores that power the reinvention of matured products and keep fueling the reinvention waves to rise and unleash creative destruction effects are known as Disruptive technologies. Some of the disruptive technology examples are semiconductors, light-emitting diodes, batteries, wind turbines, solar cells, machine learning, intelligent sensors, streaming, and so on. Individuals and firms pursuing technology disruption to offer better alternatives to matured products through the rise of reinvention waves are called tech disruptors. Due to the unique advantage of emerging technology cores and the growing role of ideas in creating value and substituting roles of labor, materials, and energy, technology disruption expands the market and fuels market power.    
Key Takeaways
Technology disruption is caused by the destruction of demand for matured products and the rise of reinvented alternatives fueled by emerging technologies, causing transformation to jobs and businesses.
Due to technology disruption, Startups rise, and large firms disappear or weaken, causing the sharp rise and fall of the market value of a stock portfolio.
Innovation epicenters migrate across the boundaries of firms, industries, and nations, causing a rise and fall in demand for products, natural resources, jobs, and businesses.
Technology disruption examples
LED light bulbs, electric vehicles, word processors, and autonomous vehicles are technology disruption examples. Some other examples of technology disruption include how we call taxi services using Apps, order food online, pay bills using digital wallets, shop online, and conduct meetings over Zoom or other video conferencing platforms.
LED light bulb has been a technology disruption as the reinvention of incandescent or CFL light bulb through the change of technology core by light emitting diode (LED) has destroyed the business of making and selling incandescent or CFL light bulbs. As a result, the lighting businesses of GE, Toshiba, Philips, and others suffered from loss. On the other hand, little Nichia rose as the global leader in lighting due to its success in driving the LED lighting reinvention wave.    
Examples of disruptive technologies and companies
Disruptive technology examples include semiconductors, software, electronic image sensors, lithium-ion batteries, wind turbines, mobile internet, 3D printing, and many more. Besides, disruptive AI technology has been growing in replacing cognitive human roles in growing number of jobs.  By leveraging these and other disruptive technologies, Sony, Amazon, Microsoft, and Apple have become notable examples of disruptive companies. Among them, we all know Amazon Disruptive innovation because it has changed how we shop and read books.

Digital disruption and technology
Digital disruption occurs due to digital technologies' reinvention of goods and services. For example, audio and video cassettes have been converted into digital content. Besides, those contents are being delivered over the internet as streaming services, resulting in disruption. Some other examples include digital currency, e-mail, e-books, etc. We need digital technologies such as wireless data communication, microchips, image sensors, and scanners to power reinvention waves.   
Disruptive vs sustaining innovation and technology
Sustaining innovation refers to incremental product advancements to maintain diffusion and face competition. Hence, innovators keep improving the underlying technology core and releasing better versions. For instance, successive releases of the iPhone constitute a sustaining innovation act. Innovators look to advance existing technology and add new ones for adding new features for sustaining innovations. For example, the digital camera has been playing a sustaining technology role for smartphones.    
Disruptive innovation refers to the reinvention of matured products by changing the technology core. For example, the electric vehicle is an example of disruptive innovation. The lithium-ion battery is the disruptive technology core for fueling the EV reinvention wave.
Technology disruption benefits
Products have human life like S-curve life cycle. Irrespective of their greatness, they mature and stop growing. As a result, innovation diffusion reaches saturation. To overcome it, we must reinvent them by emerging suitable technology core. Due to uniqueness, higher quality, and lower cost, powered by a more significant role of ideas, technology disruption succeeds in serving our Jobs to be done better at less cost. As a result, innovators find the opportunity to serve a growing number of customers at decreasing costs with higher-quality products. For example, digital cameras and data storage in the form of smartphones have diffused into the hands of everyone because of technology disruption.
Disruptive technologies offer startup opportunities
Despite the future implications of fueling reinvention waves, invariably, all disruptive technologies begin the journey in embryonic form. At the early stage, reinventions out of them offer primitive alternatives to matured products. For example, Kodak's digital camera in 1974 was far inferior to its film counterparts. Hence, incumbent firms profiting from matured products often avoid pursuing them, leaving the opportunity to new entrants or startups. For example, IBM left the PC wave to Intel, Microsoft, and Apple. Similarly, Kodak left digital cameras to Sony, Apple left streaming to Spotify, Walmart left e-commerce to Amazon, and Blockbuster left video on demand to Netflix.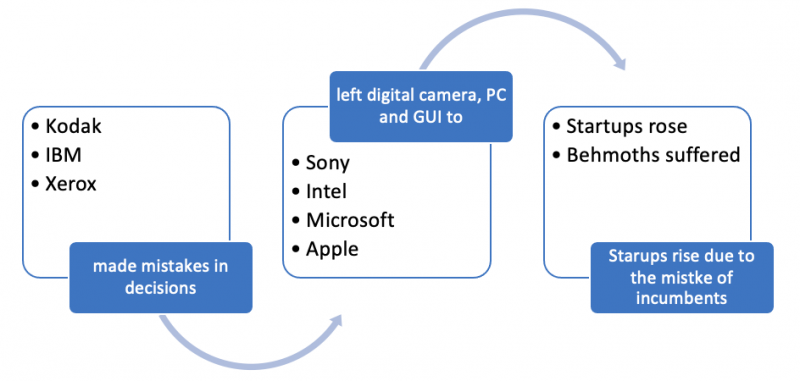 Disruptive technologies catching the wave
As explained, disruptive innovations are the outcome of the rise of the reinvention waves, unleashing the creative destruction effect. Often, catching the next wave of disruptive technology is a challenge. It happens due to the embryonic beginning and the risk of getting caught in the chasm. Such a reality poses the risk of missing the next wave of disruptive technology or getting caught in the hype cycle.
Technology disruption transforms and migrates innovation epicenters
Technology disruption takes place due to the rise of reinvention waves. However, all reinvention waves invariably begin the journey of offering primitive products at a loss. Yes, they grow, but not all of them grow to reach profit. Hence, incumbent firms producing older products at profit face decision-making dilemmas. Besides, upon showing initial rapid progress, many reinvention waves get caught in a chasm, creating a hype cycle. As a result, oftentimes, new entrants succeed in technology disruption, resulting in the migration of epicenters across the boundaries of industries, firms, and nations.     
Due to the rise of digital technologies, AI, robotics, battery, and renewable energy, it's expected that a large number of products and firms will suffer from disruption—creating a mass disruption effect. On the other hand, upon showing initial progress, many reinvention waves powered by disruptive technologies will get caught in the chasm, creating a hype cycle. Hence, it has been challenging for startups, investors, and incumbent firms to profit and prevent loss from technology disruptions.