Innovation forks out more than 40 percent gross profit from close to $400 billion revenue. That is a great pinnacle of apple's success from innovation. Apple is known for its innovations like iPhone, iPod, and a few more. Due to innovation, Apple grew from the garage as the world's most valuable company. Ironically, due to lack of innovation, this company was on the verge of collapse. Interestingly, innovation has given a second life to this great company. Apple's innovation history is a story of its rise as a disruptor. Its innovation success distills from reinvention and refinement, leading to disruptive force. Ironically, Steve Jobs' innovation spark did not unfold in Apple's first product, Apple I. However, soon after, innovation magic started unfolding with the debut of the Apple Macintosh. Notable examples of Apple's innovation are personal computers like Macintosh, iMac, MacBook, Newton, iPod, iTunes, iPhone, Apple Watch, and Apple TV.
In the 1970s, the development of microprocessors triggered the inspiration among the youths to make, exhibit and tinker with personal computers. Steve Jobs and Steve Wozniak also got into this inventiveness exercise of making their personal computers and exhibiting at the Homebrew computer club in Menlo Park, California. Notably, while working at HP during the summer, Steve Wozniak got first-hand experience designing and making personal computers. Their such creative activity led to making Apple I in 1976, the first innovation of Apple. But both the inside and outside of the wooden box did not have much to claim as innovation.
However, this humble beginning is the first page of Apple's innovation history, which led to unveiling a series of innovations, having disruptive effects. Examples of Apple's disruptive innovations include MacIntosh, iPod, and iPhone. However, evidence suggests, Apple's innovation successes are not entirely due to Steve Jobs' art of mental model.
Overview of the article:
The brief outline of the article spells out in the following table of content:
Summary of Apple's innovation history:
Let's begin our tour of reviewing Apple's innovation by looking at the history of Apple's innovation examples: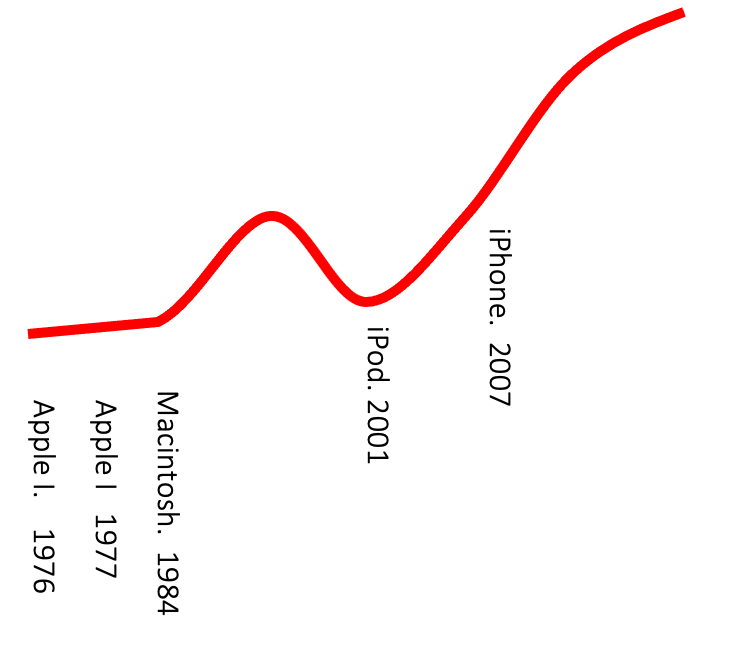 1976: Apple I, a populated circuit board with keyboard and interface of using TV as a display
1977: Apple II, upgrade of predecessor as a typical personal computer
1984: Macintosh, the debut of disruptive innovation as the reinvention of personal computer
1985: laser writer; could not establish a footprint, losing the glare to HP
1993: Apple Newton, palmtop computer failed to unleash disruptive power
2001: iPod, reinvention of portable music, rescuing Apple from impending bankruptcy
2001: iTunes, as a media player, media library, mobile device management

utility

, contributed to iPod and iPhone value proposition through network

externality effect

2007: iPhone, ultimate magical innovation, unleashing disruptive power out of reinvention
2008: Apple App store; a solid contributing factor in creating network externality effect
2010: iPad tablet, having a moderate effect in the innovation space
2015: Apple watch, struggling to grow as a reinvention force to cause disruption
The debut of Apple's innovation magic from the reinvention of Apple I: Macintosh
For sure, Apple did not create innovation buzz with Apple I or Apple II. Steve's innovation magic got the first show with the unveiling of Macintosh or Mac in 1984. Magical innovation power came out with the reinvention of the user interface of personal computers. Apple changed the text command-based user interface with graphical user interface technology core, comprising mouse, menu, icon, folder, and point&clk. It created a considerable buzz, with the sale of 250,000 Macintosh computers in the first year.
However, Neither Steve Jobs nor Apple did develop the GUI technology core. The credit of the invention of this remarkable technology core goes to Xerox's Palo Alto Parc facility. But Steve deserves his credit in seeing its potential for reinventing PC for easing the complexity of its operation. Furthermore, as opposed to just copying, Apple refined it over six years leading to its debut in 1984. In retrospect, Apple I & 2 were imitations, and Macintosh was Apple's first innovation. It has succeeded as iMac and MacBook.
Besides, Macintosh's birth history also gives us underlying repeatable patterns of how Apple innovates. The reinvention of existing products out of borrowed technology, coupled with Steve Jobs' obsession with refinement, forms the underlying fabric of how Apple innovates. Steve was so obsessed with the refinement that continual suggestions for improvements led him to be kicked out from the project pursuing GUI based interface.
Tiny iPod rescued Apple from imminent collapse:
Although Macintosh created a considerable buzz, its innovation luster kept fading away due to the departure of Steve and the rise of Microsoft Windows. Due to internal power struggles, Apple lost Steve Jobs in 1985. Furthermore, Apple could not introduce any new radical innovation. Even Apple Newton, released in 1993, could not show any magic. However, in 1996, upon acquiring NeXT for $400 million, Apple succeeded in bringing back Steve. Upon the return, Steve embarked on the mission of rescuing apple by turning around the dwindling financial health. ow
His notable rescue project was iPod, with code name Dulcimer. Like the Macintosh, the strategy was reinvention. But as opposed to reinventing computers, Steve Jobs targeted the reinvention of portable music players. The targeted technology core was the internet and user interface. Through the refinement of these two technology cores, Apple reinvented portable music players, leading to the unveiling of the iPod in 2001. It emerged as a disruptive force to Sony's Walkman and many other MP3 players. Soon after its release, Apple got back its innovation glory. Without iPod innovation, perhaps, Apple could have been history.
iPhone emerges as a disruptive innovation:
However, while iPod's sales were ramping up, Steve Jobs envisioned an impending invasion threat from the smartphone. He felt that people would prefer enjoying music with their smartphones very soon instead of carrying a separate device, an iPod. Hence, he got into the mission, in 2004, to reinvent the iPod and also smartphone. His preferred technology core for reinvention was multi-touch. However, Apple did not have state-of-the-art technology. Hence, Apple acquired FingerWorks, a gesture recognition company. As usual, Steve was not happy with the delicate touch of the acquired technology. Therefore, he directed long research to refine it so that it could be the preferred technology core for reinventing the smartphone user interface. This journey led to the debut of the iPhone, a combination of phone, music player, and internet browser, in 2007.
Within a few years, iPhone started unleashing its disruptive innovation power, resulting in the departure of major smartphone makers like Nokia, RIM, and Palm. The fineness of the technology and Apple's success in releasing successive better versions grew as a strong disruptive force. Furthermore, Apple also created economies of scope and network externality effects. For example, the development of the iPhone around the common technology core contributed to economies of scope. Besides, the app store and iTunes started building the network externality effect. With the given disruptive impact on competitors, undoubtedly, iPhone is disruptive innovation. In retrospect, Apple's decision of reinventing the smartphone as iPhone, causing destruction to the iPod, was essential to avoid Kodak moment.
Apple's disruptive innovation unfolds from reinvention and refinement:
Apple is known for disruptive innovation. Apple's disruptive innovations have been unfolding out of reinvention and incremental advancement through a focus on details. For example, despite the remarkable performance, iPhone-I could not create a radical effect as a reinvention. It unleashed its disruptive innovation power through consistent refinement, leading to the release of successive better versions. Similarly, both Macintosh and iPod unleashed their disruptive innovation power from reinvention and refinement. For this reason, Apple is also known for radical innovation. However, Apple's successes from disruptive innovation, distilled from reinvention, raise a question: is Steve Jobs' success of creative destruction replicable?
Apple's incremental and sustaining innovation:
Despite the greatness, Apple's innovations are not immune to competition response. Furthermore, the development of externalities like infrastructure and standards are in dynamics. Hence, to leverage externalities and fend off competition, Apple has been releasing successive better versions of its innovation, with a burst of incremental advancement. Such sustaining innovation strategy has been at the root of the growing diffusion of Apple's innovation.
For example, within one year of the release, the sale of iPhone 1 came down to zero. However, the release of the next version with the 3G feature picked up the sale. Similarly, incremental advancement of camera resolution and jump in camera numbers have been contributing to iPhone's success as a disruptive innovation to both still and video cameras. Like iPhone, incremental and sustaining innovation responses have been vital in all Apple's innovation successes. Pieces of evidence emerging from Macintosh, iPod, and iPhone indicate that Apple has been disrupting the industry by reinventing existing products, pursuing refinement, and releasing successive better versions.
Apple's innovation systematically unfolds from a strategy:
Although we praise Steve Jobs' magical creativity, Apple's disruptive innovation success reveals a few core strategy components. Apple's innovation strategy comprises creating and leveraging technological economies of scale, scope, and network externality effects. For the implementation of the strategy, Apple maintains a strong technology portfolio. Despite having a solid internal R&D capacity, Apple often acquires technologies from the outside. For example, Apple acquired GUI from Xerox and multitouch from FingerWorks. To leverage them, Apple's internal R&D team plays a vital role in refinement and integration within the broad architectural framework.
With the given role of Macintosh, iPod, and iPhone, recreating respective industries out of destruction, Apple is known as a disruptor. In Apple's innovations, the company is known for having attention to detail and offering fine touch to customer experiences. Apple disrupted the industry through reinvention and refinement. In the unfolding innovation history, Apple has emerged as a force of disruptive innovation. With the given role of Macintosh and iPod, innovation is at the core of Apple's birth, second life, and continued prosperity. Apple has been disrupting the industry by capitalizing on the power of reinvention, refinement, and sustaining innovation.
...welcome to join us. We are on a mission to develop an enlightened community for making the world a better place. If you like the article, you may encourage us by sharing it through social media to enlighten others. 
You may find these articles relevant:
Apple's Innovation Strategy – creating and monopolizing
Steve Jobs' Innovation Secret: Reinvention from Refinement of Borrowed Ideas
Steve Jobs' Creative Destructions–are they replicable?
iPhone Innovation from Refinement and Integration
Flow of Ideas–misleading business metric?
Innovation S-curve – episodic evolution
Evolution of iPhone as Seasonal Crop—why does Apple keep releasing better versions?