For an inventive idea of an electric vehicle, Elon Musk has become the wealthiest person. He is not alone; there are many other examples. By the way, we are not after ideas just for having a creativity exercise like brainstorming. We are after inventive ideas for systematically ferreting out profitable revenue from the market. But how to get them? Does it mean that we have to be creative geniuses like Steve Jobs? Are there lessons from great inventions like the telephone or smartphone to get inventive ideas? In retrospect, there are nine primary sources of getting inventive ideas.
Of course, upon reviewing scientific discoveries, we can come up with inventive ideas. By leveraging evolving technology possibilities, we can also get inventive ideas for reinvention and incremental advancement of existing products. The idea for the design for manufacturing could also be a good source. Besides, ideas for advancing the production process could be inventive means. Accidental observations also lead to powerful, inventive idea generation.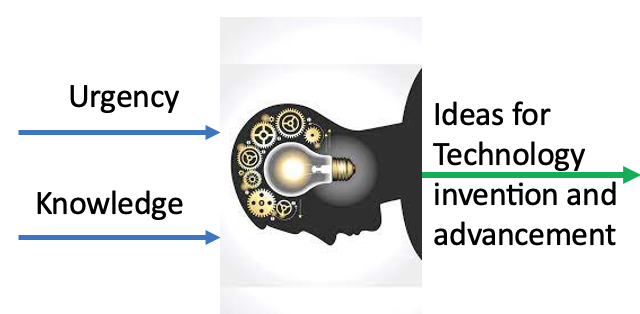 As opposed to randomly searching for great ideas or waiting for a creative spark in the minds of genius, we should systematically investigate nine areas. In retrospect, starting from Steve Jobs to Elon Musk, many of the great inventors got ideas from these nine areas. We have got these areas upon the review of 14 inventions. They are (i) Telephone, (ii) CellPhone, (iii) Smartphone, (iv) Television, (v) Radio, (vi) MRI machine, (vii) Camera, (viii) Washing machine, (ix) Automobile, (x) Word processor, (xi) Light bulb, (xii) Airplane, (xiii) Computer, and (xiv) Microwave oven. Let's look into these areas for getting inventive ideas.
Urgency and knowledge underpin inventive ideas:
At the root of getting inventive ideas is about feeding urgency and knowledge to our creative process. In the absence of any or both of them, creativity alone does not succeed in the production of inventive ideas. For example, despite being rich in scientific knowledge, Russia could not succeed with inventions. In the absence of profit-making urgency, knowledge alone could not keep generating ideas. On the other hand, in the preindustrial age, despite the urgency of having a better quality of life, ideas had a very limited flow due to a small supply of knowledge.
Grassroots problem solving with ideas:
Many great inventions like the Telephone and Washing machines started as grassroots ideas. To get everyday jobs done easier, people look around readily available artifacts, gather knowledge about them and let the creative process think to generate ideas to shape and integrate them to serve the purpose better.  For example, Robert Hooke used his intuitive understanding of the acoustic behavior of strings and paper cups to get the idea of lovers' phones. There have been millions of such examples of grassroots ideas all around the world. For example, India's innovation foundation has listed the existence of more than 300,000 such ideas in India alone—mostly stunted, though.  
Scalability demands a flow of inventive ideas through technology exploitation:
For Grassroots ideas to succeed, the challenge is to scale them up. Despite their initial useful role in helping get jobs done better, the grassroots ideas are not naturally scalable for being increasingly better and cheaper. In retrospect, most of the artifacts used in the preindustrial age were grassroots ideas. Hence, due to their non-scalability, the economy in those days was growing in a slow space. For this reason, the design and production of those grassroots ideas could not create quality jobs, firms, and industries.
The scalability demands the urgency of improvement and a flow of knowledge to feed the creative process for generating additional ideas. Those ideas could be for refinement through incremental advancement. More importantly, reinventive ideas out of emerging technology possibilities offer quite an enormous scope of scaling up grassroots inventions.
For example, the technology core of Robert Hooke's telephone was changed several times. It began with the reinvention of the mechanical or acoustic telephone by electrical technology core. Subsequently, it was reinvented with electronics and software technologies. Consequentially, Robert Hooke's grassroots idea of lovers' phones has ended up into such an enormous success, creating millions of jobs, numerous firms, and several industries.
Inventive ideas from scientific discoveries:
Scientific discoveries have been our great source of inventive ideas. For example, the invention of magnetic resonance imaging came out as the outcome of the generation of scientific knowledge over almost 50 years. Similarly, nearly half a century-long scientific research led to enough knowledge accumulation to support Radio invention. However, despite the elegance of scientific knowledge, invariably, inventive ideas from them emerge in primitive form. The commercialization journey, consistently, begins at a loss. They need a flow of ideas for refinement.   Furthermore, scientific knowledge alone does not produce ideas. There must urgency to make good use of that knowledge. Often time, passion for perfection or sustaining profit-making through better products is a great source of urgency for producing ideas from the flow of scientific discoveries.
Pursue reinvention of existing products:
disruptive innovation

through creative destruction

Technology invention and advancement opens the window of reinviting existing products. For example, the invention of the Transistor supported the generation of inventive ideas for the reinvention of many products. Notable ones are Television, Radio, Telephone switch, cell phone, and many more. Similarly, the advancement of battery technology has been a great core technology for ideas of reinvention. A notable one is Tesla's idea of reinventing gasoline automobiles into electric vehicles.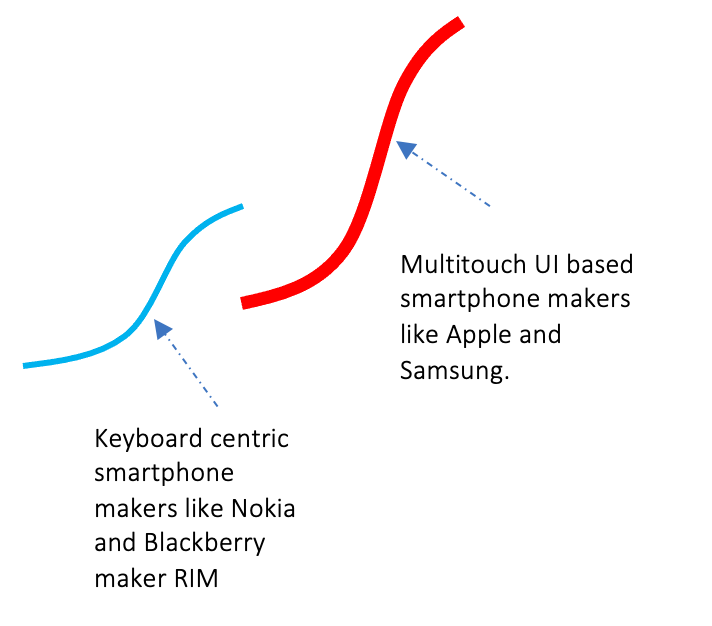 The invention of the Telephone or Television, among others, needed reinventions through a change of technology core. For example, Graham Bell made the telephone invention a success story by changing the acoustic technology core of Hooke's lovers' phone with electrical means. Similarly, RCA made television invention a success story by changing the mechanical technology core of Baird's design by electronics.
Similarly, the continued advancement of Transistor technology leading to personal computer invention led to the idea of reinventing the typewriter as a word processing machine. However, often, reinventions appear in an inferior form. The underlying technology core should be amenable enough to progress in turning the emerging wave into a force of creative destruction. Sometimes, the uprising of ideas for reinvention grows to cause disruption to existing firms. For example, camera reinvention as the digital camera made Kodak bankrupt. Furthermore, Steve Jobs showed his innovation magic out of reinvention.
Incremental inventive ideas for the redesign: the passion for perfection
Most of the inventions took decades for refinement for serving practical purposes. Inventors were after a relentless journey of generating incremental ideas in a systematic manner for creating the flywheel effect–reaching an aha moment. Hence, the focus should be on creating a flow of ideas for incremental progression for empowering the initial idea to serve a practical purpose–desired by many. This is at the core of the increasing diffusion of an invention.
Incremental progression of existing products is an essential requirement—demanding a flow of inventive ideas. Many of the inventive ideas went through a long journey of redesign, leading to a usable state. Evolving understanding about customer preferences, insights about customers' pain points in getting target jobs done, and technology possibilities should be fed to the creative process for generating ideas. Such inventive ideas could lead to adding new features or improving existing ones. Furthermore, a flow of incremental inventive ideas is essential for releasing successive better versions for sustaining innovations in the market. For example, Apple has been generating a flow of ideas for sustaining the iPhone in the market through the release of successive better versions.
Ideas for design for manufacturing:
Once product design is ready to proceed to manufacture, there is an excellent scope for generating inventive redesign ideas. Such ideas are for reducing the complexity of manufacturing and making parts self-aligned. Ideas of redesign could reduce the machine time, reduce processing steps, or integrate multiple components. Inventive ideas may target to reduce human role in manufacturing. Ideas for the redesign for making the product manufacturing friendly can produce numerous benefits, including reducing wastage, increasing the ease of repairing, improving recyclability, advancing the quality, and lowering the cost.
Inventive ideas for the production process:
Ideas for production process improvement are a great source of deriving economic value from the invention. Technology possibilities are opening the door to producing inventive ideas for delegating roles from humans to machines to improve quality and reduce cost. The whole robotics and automation branch has come up due to the flow of such ideas. For example, once, more than 80 percent of automobile manufacturing tasks used to get performed by humans. Over the last 70 years, numerous ideas have been added to the production process to reverse the role. As a result, the precision of operation has been improving. Besides, defect density, rework, and wastage have been decreasing.    This path of inventive idea production is at the root of automation.
Accidental observations leading to inventive ideas:
Accidental observations are also a great source of inventive ideas. For example, the inventive idea of the microwave oven came out from the observation melting of candy in a pocket while the inventor was experimenting with microwave radiation for RADAR. X-ray invention also took place in a similar way.
It seems that these seven areas are essential sources of systematically generating inventive ideas. However, the journey of pursuing inventing ideas should be organized in a unified way for progressive diffusion of ideas deeper in society. However, the passion for perfection must be at the core to leverage these ideas for addressing the scarcity of inventive ideas.
Inventive ideas for sustaining innovation:
Irrespective of the greatness, upon release in the market, every product faces the challenge to sustain in ferreting out value from the market. Invariably, competition shows up with replication, imitation, innovation, and even substitution as counteroffers. Hence, willingness to pay for the product starts drifting downward–losing its ability to sustain in the market. Therefore, it's an essential requirement to release a better version, preferably at a less cost. In doing so, we need additional inventive ideas. And we need a flow of them to keep releasing sucessive better versions.
On the other hand, unfolding infrastructure, technology progression, better knowledge about customers' expectations, and latent scope of externality effects, among others, keep opening the door of adding ideas in the form of additional features and also improvement of existing ones. Hence, the scope of inventive idea generation keeps expanding in dealing with sustaining innovation in the market.
With empathy, focus on
getting jobs done

:

Creativity alone does not succeed in getting inventive ideas in ferreting out profitable revenue from the market. They must help customers to perform their jobs better. Hence, we need to focus on jobs that customers are trying to get done. It happens to be that asking customers does not reveal that insight. Instead, it demands empathy to silently observe and figure out. Furthermore, it keeps unfolding. Hence, with empathy, we need to focus on understanding customers' pain in getting jobs done so that we can generate ideas to help them. Furthermore, we need to look into technology possibilities to implement them in a profitable manner.

Careful understanding of these nine areas will likely make an ordinary person leverage inherent creativity in generating inventive ideas. As explained before, the major challenge is to leverage knowledge to generate ideas in helping customers to get jobs done better and to produce profitable revenue.