Of course, Steve Jobs' empathy and creativity triggered Apple's Innovation flywheel. But is it good enough to keep building momentum after his long, eternal departure? Apple's business success of generating more than 40 percent gross profit from staggering revenue is the success of a monopoly. Apple's innovation strategy is at the core of Apple's success in creating and monopolizing the high-end market of High-tech. The Disruptive innovation effect of the Macintosh, iPod, and iPhone, among others, strongly suggests that Apple's innovation strategy is proactive. It encompasses product, process, and business model innovation, having the product at the core. Apple's disruptive innovation strategy, creating a radical effect, focuses on unmet needs, distilled from reinvention and sustaining innovation. Of course, incremental and architectural innovations have been complementing in creating the flywheel effect. Contrary to focusing on resource efficiency, Apple's innovation strategy creates a new market through creative destruction and monopolizes it.
For sure, in the beginning, Apple did not have an innovation strategy. Two friends, Steve Jobs and Steve Woznick were after the hobby of assembling components in making personal computers and exhibiting them. But soon after completing the wooden box Apple-I, they faced the challenge of generating revenue for building business. And they were not alone in making PCs. Hence, the pressure of facing competition compelled them to think about innovation. Subsequently, Apple's innovation journey started with a reactive, routine approach of developing text-based graphics like a user interface for business computer-LISA. However, very soon, it changed with the visit of the Apple team led by Steve Jobs at Xerox's Palo Alto Parc facility. Steve Jobs didn't take much time to envision the possibility of the graphical user interface (GUI) demonstrated by Xerox Alto. Hence, instead of pursuing Incremental innovation, Apple got into the mission of reinventing existing products.
Overview of the article: table of content
Key takeaways of Apple's innovation strategy
Magical performance distills from strategy–although Apple's innovation success is attributed to the magical innovation capability of Steve Jobs, Apple's sustained innovation performance distills from a strategy.
Steve's personal traits underpin Apple's innovation strategy–Apple's innovation strategy is not the cookbook handed over by a strategy consultant. Instead, Steve Jobs's personal traits like empathy and

Passion for Perfection

underpin Apple's innovation strategy.
Strategy for winning the innovation race through evolution–to win the innovation race, Apple extended Steve's personal traits to drive the evolution of innovations far better than competitors.
Reoccurring patterns of Apple's innovations reveal strategy–the dissection of Apple's innovations reveals recurring patterns forming the building blocks of Apple's innovation strategy.
Apple's innovations reveal reoccurring patterns–building blocks of Apple's innovation strategy
Our approach to deciphering Apple's innovation strategy has been to dissect the life cycles of Apple's innovations. Notably, we dissected the life cycles of Apple's high-performing three innovations: (i) Macintosh computer, (ii) iPod, and (iii) iPhone. In this exercise, we found the following reoccurring six patterns:
Reinvention of products— reinvention of existing products by leveraging emerging technology possibilities to take customers' experience to a new orbit has been at the core of Apple's innovation strategy.
Empathy and passion for perfection–for lifting customer experiences at a new orbit, Apple focused on empathy and passion for perfection to dig out a refined understanding of customers' latent expectations. Apple this innovation strategy element is the successful institutionalization of Steve Jobs' personal traits.
Refinement of borrowed technology–for leveraging technologies developed by others, Apple focused on sourcing from the outside and refining them internally, apparently stretching the limit. This internal refinement capacity of Apple appears to be highly difficult to replicate.
Forming global partnerships with innovators–Instead of attempting to advance and make all the components, Apple focused on partnering with the best providers in the world. This strategy of fusing the best components to offer product or system level high performance is also a core strength of Apple's innovation strategy.
Releasing successive better versions–Apple's innovation strategy leverages the evolution of innovations to expand the market and fend off competition by lowering catch-up time. This strategy has also been helping Apple to keep leveraging unfolding technology possibilities and externalities in expanding the depth and breadth of its innovations.
Reinvention through self-destruction for sustaining success–iPod gave a second life to Apple. However, smartphones kept posing a threat to the future of iPod. Hence, Steve Jobs made a primitive attempt to sustain its success by reinventing it as the iPhone–causing destruction to the iPod.
Innovation Strategy: key competence for organizations' success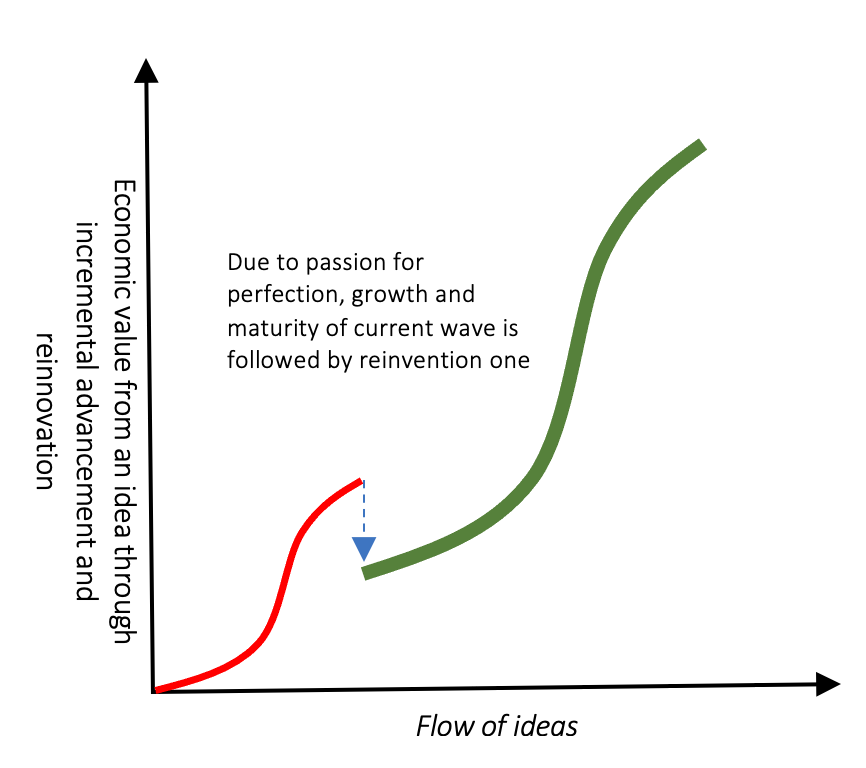 A vast majority of managers agree that innovation is at the core of their firms' successes and failures. But innovation remains a frustrating pursuit in many companies. In addition to frequently failing innovation initiatives, successful innovators have a hard time sustaining their performance. Polaroid, Nokia, Sun Microsystems, Yahoo, Hewlett-Packard, Tata, and countless others have stories to share about frustrating experiences.
The reasons behind why it is hard to develop and maintain the capacity to innovate go much deeper than the commonly cited cause: a failure to execute. The problem is rooted in the lack of an innovation strategy. Is it the challenge of picking an option from common innovation strategy classifications such as proactive, active, reactive, and passive? Or, if we start strengthening the commonly cited nine pillars, will it be good enough to address the innovation issue?
Despite the dissatisfaction and failures of many, Apple has been consistently creating remarkable success out of innovation. To understand Apple's innovation strategy, we need to dig deeper than merely investing money in research and development activities and fostering ideation and creativity.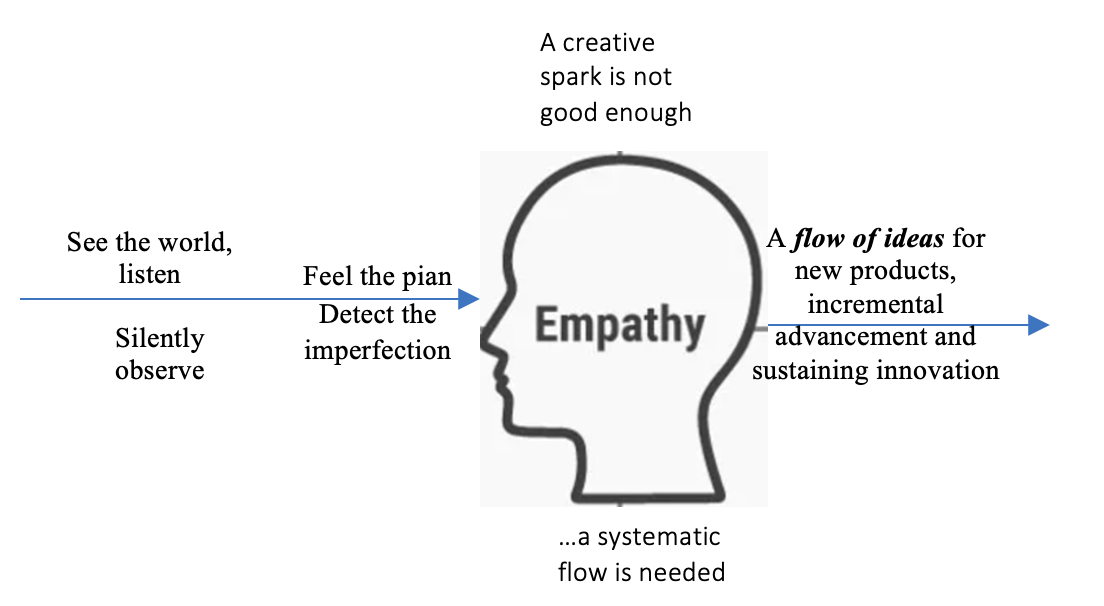 Empathy leading to creation through destruction and monopolization underpins Apple's innovation strategy:
Steve Jobs' empathy goes deep in feeling target users' latent pain. Routine incremental advancement often failed to meet his understanding of untold customer requirements. Hence, he used to look around in radically different ways, leading to reinvention through the change of technology core. For example, incremental advancement of text-based graphics like the user interface of LISA did not make him content. Therefore, the exhibit of mouse and point&click based GUI of Xerox Alto created a spark of pursuing the possibility of reinventing PC by changing the user interface technology core. A similar pattern is observed in Apple's innovation in iPod and iPhone.
But mere reinvention out of the change of technology core did not meet his feeling. In retrospect, that was just the beginning of a new wave. His desire to meet detail requirements kept refining reinvention, forming a creative wave of destruction. Invariably, followers and incumbents alike failed to catch up, creating a new market and monopolizing it. Steve's this passion has led to the formation of Apple's innovation strategy of creation and monopolization out of reinvention and a fierce journey of refinement. As a result, incumbent players like Sony and many others got kicked out of the portable music player business.
Similarly, Nokia, RIM, and many other smartphone makers lost business to the rise of the iPhone. On the other hand, followers like Samsung, LG, Google, and many other Chinese smartphone makers have been failing to catch up with Apple. Hence, Apple's product strategy has been to reinvent existing products and pursue relentless refinement in releasing successive better versions. Consequentially, Apple's innovation strategy has succeeded as a blue ocean strategy—creating a competition-free growing market. Significant components of Apple's innovation strategy have been technological Economies of Scale, scope, and network externality effects.
Technological scale effect: a cornerstone of Apple's innovation strategy
Although Apple has created innovation success out of reinvention, there has been a significant challenge. At the beginning of the reinvention wave, innovations are expensive and inferior. For example, the GUI user interface made the initial Macintosh slow and costly because GUI is highly computationally intensive. Similarly, the creation of the iPod successes faced the challenge of slow internet speed and the low storage capacity of the dime-sized disk. iPhone's computationally intensive multitouch user interface faced the difficulties of overcoming display and core processor limitations. Hence, Apple's innovation strategy faced the challenge of creating the scale effect out of technology advancement. The challenge was to make the products increasingly better and also cheaper. Hence, creating a technological scale effect was the cornerstone of the success of Apple's innovation strategy.
Scope effect from reuse of common asset in product family architecture: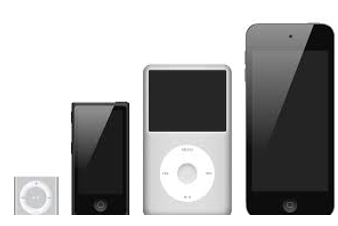 To leverage technology advantage, Apple's product differentiation strategy focuses on developing a family of products from architectural innovation for having a very high level of reuse of the common assets. This is about economies of scope advantage. Hence, from the iMac to Apple Watch, all Apple products have the same technology core—software asset. Due to the zero cost of copying software, Apple derives a significant competitive advantage out of the reuse economics of core assets among product family members. In addition to cost advantage, it also eases the complexity and increases the speed of product evolution. Hence, the scope effect is a vital building block of Apple's innovation strategy of growing the reinvention wave as the force of disruption and monopolization.
Creating network
Externality Effect

is a growing Apple's product strategy:

The 3rd important pillar of Apple's innovation strategy is to create a network externality effect. Apple adopted a closed design for Macintosh to create this effect. As a result, the growth of the customer base started contributing to increasing the perceived value of Mac users due to the broader availability of components, ease of file sharing, and many others.

However, a lack of compatibility also created significant barriers to the diffusion of Mac. Hence, it adopted more open standardization in its subsequent products like iPod and iPhone. For example, Apple adopted MP3 standards instead of opting for a proprietary one for the iPod. Similarly, for iPhone, Apple sourced more or less all components, except the core processor, from more than 200 suppliers. However, Apple's iTunes created significant network externality effects on iPod. Similarly, 3rd party component plug-in options through the Apple App store have been a solid contributor to the network externality effect of the iPhone.

Besides, a high level of commonality in the user interface, ease of connectivity between Apple devices, and complementary roles have also created network externality effects. Hence, network externality has been a vital building block of Apple's innovation strategy.
Apple vertical integration is through ecosystem and supply chain:
Apple's strategy has been to develop a family architecture for its reinvented products, with a focus on high-level commonality. Particularly, commonality in software assets highly matters, as it offers high-level differentiation. Besides, the cost of copying the software asset is zero. But as opposed to trading software as a standalone product, Apple offers software-intensive complete products, like iPhone. To make those products, Apple needs numerous hardware components. Many components, like sensor, lens, and display, are highly dynamic and amenable to scale.
Hence, to benefit from component-level dynamic efficiency and scale, Apple has adopted a vertical integration strategy out of the formation ecosystem of suppliers. For example, more than 200 global suppliers have formed a vertically integrated ecosystem for Apple's iPhone. Hence, Apple's competitive strategy includes vertical integration through a globally distributed ecosystem of suppliers. In addition to in-house expertise, Apple has been after maximization of component-level global specialization for creating innovation success. Hence, Apple's ecosystem strategy has been to source the best value from international component and manufacturing service suppliers and integrate them seamlessly through software-centric product family architecture.
Systematic idea and technology management power Apple's innovation strategy:
Kickstarting reinvention by the change of technology core may suddenly show up. But that single great idea, such as GUI, multitouch, or click dial, has not created disruptive success for Apple. First of all, implementing the reinvention idea needs a group of technology. For example, multi-touch gesture recognition needed a high-resolution display and sensor, underlying huge computational capacity, and software firepower.
Furthermore, they needed a flow of ideas for refinement to release successive better versions. Besides, the rise of the creative waves keeps demanding additional technologies. For example, although multitouch gave the initial thrust of reinvention of the smartphone, the camera unit has become the core technology releasing iPhone's recent versions. Hence, this evolving innovation needs demand technology forecasting and systematically managing technology and idea portfolios to empower innovation strategy to succeed.
Innovation strategy forms the core of Apple's blue ocean strategy:
Apple has been catching big fish in a competition-free blue ocean. Hence, Apple seems to be a great example of the success of the blue ocean strategy. But how has Apple succeeded in asserting strategic moves for unlocking new demand and making the competition irrelevant? Is it due to the application of commonly cited marketing approaches? Apple's success in systematically creating and extracting value from "blue oceans' has been through the reinvention of existing products and making the competition irrelevant by fueling the reinvention waves out of scale, scope, and network externality effect.
Apple's business and product strategy is around reinventions and sustaining innovation:
There has been a common belief that Steve Jobs' magical innovation power is at the core of Apple's products and business success. In reality, Steve's empathy has been translated into Apple's product and business strategy out of reinvention and refinement. The innovation strategy has been at the core of Apple's business success of creating a monopolist market for Apple's products. Furthermore, Apple has been leveraging sustaining innovation strategy to retain and gain further market power by releasing successive better versions.
Apple's innovation strategy forms the competitive advantage and company's business strategy:
Apple's business strategy has been to create a new market out of disruptive innovation and make competition irrelevant to it. Its competitive advantage relies on the creation out of destruction through the reinvention of products. To leverage the reinvention wave, Apple's competitive strategy focuses on a relentless journey of refinement, leading to the release of successive better versions.
Apple's innovation strategy success out of reinvention and refinement distills from multiple sources such as empathy, technological economies of scale, scope and network externality, and a globally distributed vertically integrated ecosystem. Reinventions and fiercely advancing reinvention waves out of empathy, technology, architecture, and suppliers' specialization for attaining Monopolistic market power has turned Apple a disruptor.
Apple's approach to innovation and creativity has been in leveraging empathy for deriving economies of scale, scope, and network externality effects from technology, designs, and global suppliers' capacity. It has led Apple's organizational culture of refinement and international ecosystem development to create a new market out of creative destruction and monopolize it. Hence, Apple's strategy of success of creation out of destruction and monopolization. That is why Apple is innovative, and its brand value is high.
Apple's innovation success stresses our imagination–claiming it as a magical performance. But what has been translated from Steve's empathy and passion for perfection is a disruptive innovation strategy out of reinvention for creation and monopolization.
...welcome to join us. We are on a mission to develop an enlightened community for making the world a better place. If you like the article, you may encourage us by sharing it through social media to enlighten others. 
You may find these articles relevant:
Steve Jobs' Innovation Secret: Reinvention from Refinement of Borrowed Ideas
Steve Jobs' Creative Destructions–are they replicable?
iPhone Innovation from Refinement and Integration
Flow of Ideas–misleading business metric?
Innovation S-curve – episodic evolution
Apple's Innovation – disruption from reinvention and details
Evolution of iPhone as Seasonal Crop—why does Apple keep releasing better versions?